September 08, 2011 -
National Football Post
Mock Draft 1.0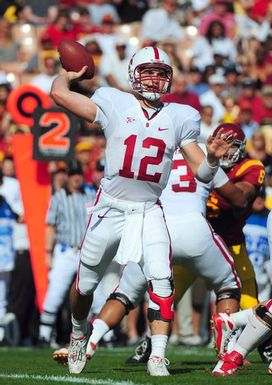 ICONLuck is a safe bet for the number one overall pick.
1. Indianapolis Colts: QB Andrew Luck: Stanford
The Colts look like the worst team in the NFL without QB Peyton Manning and Luck is the nation's consensus number one overall pick. He seems like the ideal candidate to replace Manning when it's all said and done.
2. Seattle Seahawks: QB Matt Barkley: USC
The Seahawks look to be once again in the market for a franchise quarterback.
3. Kansas City Chiefs: OT Matt Kalil: USC
An NFL ready tackle who can come in and give the Chiefs some much needed talent and overall versatility up front.
4. St. Louis Rams: WR Alshon Jeffery: South Carolina
QB Sam Bradford doesn't have much in the terms of talent to throw to and Jeffery has the skill set to mature into that big time threat.
5. Miami Dolphins: QB Landry Jones: Oklahoma
It's a quarterback driven league and it doesn't look like the Dolphins have that guy at this stage.
6. Minnesota Vikings: OT Jonathan Martin: Stanford
Minnesota thinks they have their quarterback of the future in Christian Ponder, so they're going to need a big body on the left side to protect him.
7. Cleveland Browns: DE Quinton Coples: North Carolina
The Browns need an X-factor in their front seven and Coples can be that guy.
8. Cincinnati Bengals: RB Trent Richardson: Alabama
If you want to win in the AFC North, you need to be able to play some power football. No running back in the draft offers a better size/speed combo than Richardson.
9. Denver Broncos: CB Morris Claiborne: LSU
Denver can't cover anyone in the back half and Claiborne offers them a potential big play press cover man in round one.
10. Jacksonville Jaguars: WR Justin Blackmon: Oklahoma State
The Jags need to give their rookie QB Blaine Gabbert some weapons to throw to on offense and Blackmon is a great piece to build around.
11. Arizona Cardinals: OT Riley Reiff: Iowa
Arizona has a nice nucleus of talent on the offensive side of the ball, so it's imperative they give those weapons enough time to function up front.
12. Carolina Panthers: DE Donte Paige-Moss: North Carolina
The Panthers need to improve the talent in their front seven and despite being raw, Paige-Moss has as much upside as anyone in the class.
13. Chicago Bears: WR Michael Floyd: Notre Dame
Floyd is the kind of big wide out who can win in the three-step game and give the Bears the much needed big time talent at wide out they need.
14. San Francisco 49ers: CB Dre Kirkpatrick: Alabama
There isn't a ton of talent in the San Fran secondary and adding a guy like Kirkpatrick who can come in and help out from day one would be ideal.
15. Philadelphia Eagles: DT Alameda Ta'amu: Washington
The Eagles struggle vs. the run and it all starts from their inability to anchor inside, which is Ta'amu's strength.
16. Tennessee Titans: OG David DeCastro: Stanford
An instant plug-and-play type prospect who has the skill set to mature into one of the better guards in the NFL.
17. Washington Redskins: QB Robert Griffin III: Baylor
Griffin has shown significant progress this year as a passer and his ability to get outside the pocket and spin the deep ball makes him an ideal fit in the Redskins offense.
18. Oakland Raiders: OLB Zach Brown: North Carolina
Size/speed athletes are what win on draft day in Oakland and Brown should prove he has plenty of it at this year's Combine.
19. Cleveland Browns via Atlanta: OLB/DE Courtney Upshaw: Alabama
Upshaw has the size to set the edge standing up and will rush the QB. He offers some much needed versatility as a pass rusher to their 43 front.
20. New York Jets: OLB Bruce Irvin: West Virginia
The Jets' calling card is their defense and right now they simply don't generate enough pass rush based on pure talent. Irvin has the get off burst to change that in a hurry.
21. Dallas Cowboys: CB Alfonzo Dennard: Nebraska
He's a thick feisty corner who can press, tackle and play on off man as well. He gives the Cowboys some much needed talent and flexibility in their secondary.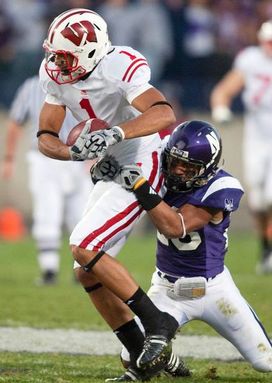 ICONToon has the skill set to move up draft boards.
22. Buffalo Bills: WR Nick Toon: Wisconsin
The Bills still don't have a ton of talent on the outside and despite this being a little high for Toon, he's the type of level headed/non diva wide out the Bills are looking for.
23. Tampa Bay Buccaneers: CB Janoris Jenkins: North Alabama
Jenkins is the draft's best off/zone cover man. He has some character concerns, but the Buccaneers have shown in the past they are willing to overlook character for talent.
24. New York Giants: ILB Manti Te'o: Notre Dame
A tough, no nonsense type inside backer who can really play the run and find the football inside.
25. San Diego Chargers: ILB Vontaze Burfict: Arizona State
With age a major factor in the Chargers' inside linebacking core, Burfict has the demeanor to be a welcomed addition inside.
26. Pittsburgh Steelers: OT Andrew Datko: Florida State
The Steelers need to improve their offensive line play and Datko is one of the few offensive tackles in the class capable of playing on the left side early in his NFL career.
27. Houston Texans: DT Brandon Thompson: Clemson
Wade Phillips wants 34 guys who can threaten gaps inside off the football and stop plays before they start. Thompson could fill that role as a B.J. Raji type nose.
28. Detroit Lions: CB Coryell Judie: Texas A&M
The Lions need to address their secondary in a big way and despite Judie not having the upside of some of the other corners in the draft, he looks like a very safe option.
29. New England Patriots: OLB Brandon Jenkins: Florida State
The Pats needs to find a way to improve their pass rush ASAP and Jenkins might have the best get off burst of any prospect in the draft.
30. Baltimore Ravens: ILB Luke Kuechly: Boston College
Could this be the eventual replacement for Ray Lewis down the line?
31. New England Patriots: CB Chase Minnifield: Virginia
The secondary in New England has been poor to start the year and Minnifield offers an instant upgrade.
32 Green Bay Packers: OLB Ronnell Lewis: Oklahoma
A hybrid pass rusher who plays with a passion for the game and can help the Packers get off the field on third down.
Follwo me on twitter: @WesBunting