March 16, 2011 -
National Football Post
Mock Draft 3.0
With pro day season now in full swing, the NFP releases its 3rd mock of the year.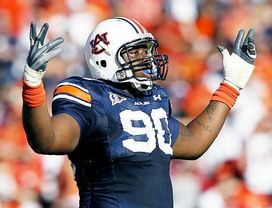 Fairley still has some character concerns he still needs to answer to.
1. Carolina Panthers: Nick Fairley, DT, Auburn
It seems like the Panthers are exploring all their options at the quarterback position in hopes of not being forced to take a signal caller at one. Fairley is the kind of defender you can build a defense around and can be an impact-caliber lineman in passing situations.
2. Denver Broncos: Patrick Peterson, CB, LSU
Peterson is a big-time talent and in my view one of the best prospects in the entire draft. He possesses more upside than any of the other pass rushers or defensive linemen in the draft and will be able to start in the Denver secondary early in his NFL career.
3. Buffalo Bills: Marcell Dareus, DL, Alabama
No matter what front the Bills want to run in 2011, Dareus will be able to find a home. He's a thick, strong anchor player who has some natural athleticism and offers significant scheme versatility.
4. Cincinnati Bengals: Julio Jones, WR, Alabama
Size/speed athletes never last long on draft day and after the impressive combine performance Jones put on for NFL officials, the guy now looks like the first receiver to come off the board.
5. Arizona Cardinals: Cam Newton, QB, Auburn
Arizona has a major need at quarterback and Newton possesses the talent to be as good as he wants at the next level. He can make all the throws, create with both his arm and legs, and has the kind of mobility needed to keep plays alive behind the Cardinals suspect offensive line.
6. Cleveland Browns: A.J. Green, WR, Georgia
I could see the Browns taking a long look at Von Miller or maybe even Cameron Jordan here. However, Green is the better overall prospect and with a big need at wideout, I think the Georgia standout will be the pick.
7. San Francisco 49ers: Von Miller, OLB, Texas A&M
The 49ers might consider Missouri QB Blaine Gabbert here, but he just doesn't strike me as a guy Jim Harbaugh will fall for. I expect the Niners to look for a gritty senior signal caller in the 2nd-4th round range and nab the top pass rusher in round one.
8. Tennessee Titans: Blaine Gabbert, QB, Missouri
The Titans have a massive void at the quarterback position and Gabbert seems like the kind of no nonsense type kid Tennessee now wants to put behind the wheels of their offense.
9. Dallas Cowboys: Tyron Smith, OT, Southern California
It's rare to find an offensive tackle with Smith's dimensions, length and overall movement skills. He still possesses plenty of upside to his game and with some time could end up being one of the better offensive tackles in the league.
10. Washington Redskins: Robert Quinn, DE, North Carolina
With no QB, RB or NT on the board worthy of the pick, I can see the Redskins simply looking at the best pass rusher on the board. Quinn is as talented as any defensive end in the draft and is a good fit at rush backer in their 34 front.
11. Houston Texans: Prince Amukamara, CB, Nebraska
The Texans have a glaring need at corner and Amukamara is a guy who can play both press/off, finds the football well and has the ability to tackle in the run game. He isn't going to be a shutdown guy at the next level, but will quickly develop into a solid starting corner.
12. Minnesota Vikings: Da'Quan Bowers, DE, Clemson
Bowers is the one name I keep hearing as a possible faller come draft day. His medical is a concern and not every team thinks he's a great fit for a 34 front. However, at pick 12, he would be a welcome addition in Minnesota.
13. Detroit Lions: Anthony Castonzo, OT, Boston College
The Lions would love to nab a corner here, but with questions concerning Brandon Harris' size and Jimmy Smith's character, getting a tough, athletic BC left tackle isn't a bad value at all.
14. St. Louis Rams: Cameron Jordan, DL, California
With Julio Jones long gone at this point, adding some talent to the defensive line is a must. The Rams need to get better creating a push from the inside and Jordan has the ability to give you solid starting reps as a three-down defender at both DE and DT in a 43 front.
15. Miami Dolphins: Mark Ingram, RB, Alabama
Ingram has been tabbed to the Dolphins ever since he declared. He ran better at his pro day, possesses NFL-caliber talent and is an instant impact runner in my view.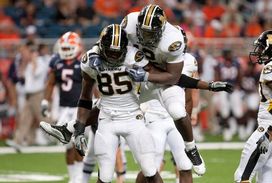 ICONSmith possesses the ability to consistently pressure the passer.
16. Jacksonville Jaguars: Aldon Smith, DE, Missouri
The Jags need to continue to improve their pass rush and getting a guy like Smith at this stage is a nice value. He displays a good first step, can bend, cleanly changes directions and possesses the length to consistently shed. Looks better suited to play with his hand down at the next level.
17. New England Patriots: J.J. Watt, DE, Wisconsin
Watt seems like a perfect fit in the Patriots 34 front. He's got the length/anchor to set the edge, is a better athlete than given credit for and offers some versatility to play inside in nickel situations as well.
18. San Diego Chargers: Ryan Kerrigan, OLB, Purdue
A relentless, high-character kid who might not be the most fluid of athletes in coverage, but seems like the kind of gritty pass rusher the Chargers need on their defense come 3rd down.
19. New York Giants: Nate Solder, OT, Colorado
With question marks at both tackle spots, Solder i s a good talent who still possesses some upside to his game. He might need to be brought along slowly, but that is something the Giants might be able to do.
20. Tampa Bay Buccaneers: Justin Houston, DE, Georgia
Houston, in my view, is a better fit as a 4-3 down defensive end. He possesses a great first step, can fly off the edge and will force opposing quarterbacks to step up into the teeth of the Bucs talented defensive tackle corps.
21. Kansas City Chiefs: Phil Taylor, DL, Baylor
Not exactly a Scott Pioli-type character pick here. However, there is a big need for a nose tackle in K.C. and Taylor fits the bill. Plus, you don't want your defensive linemen to be angels anyway.
22. Indianapolis Colts: Gabe Carimi, OT, Wisconsin
Bill Polian loves Big Ten prospects and Carimi is the type of nasty, hardworking tackle who can play on both sides of the line of scrimmage and instantly improve their run game.
23. Philadelphia Eagles: Brandon Harris, CB, Miami
The Philly secondary was victimized at times last year and adding a prospect like Harris, who is comfortable in off man/zone concepts, would be an instant upgrade for the Birds. Plus, he demonstrates good ball skills, gets up to speed quickly and isn't afraid to throw his body around.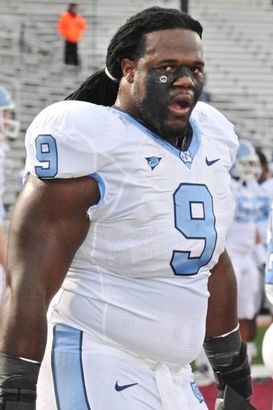 ICONIs Austin really back in the first round mix?
24. New Orleans Saints: Marvin Austin: DT, North Carolina
The Saints could use a strong run stuffer to pair with Sedrick Ellis inside and Austin fits the bill. Physically, he's as naturally talented as any defensive tackle in the class. The former UNC standout can fire off the football, is tough to move at the point and has impressive range off his frame. If they can keep him motivated, he could be a steal even late in round one.
25. Seattle Seahawks: Ryan Mallett, QB, Arkansas
With a potential franchise quarterback prospect sitting at 25, it's going to be tough for the Seahawks to pass on Mallett at this stage. His big arm makes him a perfect fit spinning the football through the nasty Seattle weather.
26. Baltimore Ravens: Derek Sherrod, OT, Mississippi State
There could be some interest from the Ravens in an offensive tackle if one of the top guys seems to slip this far. Sherrod is a good athlete who has the ability to play on the left side at the next level and allow Michael Oher to kick back over to the right side if need be.
27. Atlanta Falcons: Adrian Clayborn, DE, Iowa
Clayborn gives the Falcons a nice complement to John Abraham on the left side. He can anchor on run downs, possesses some pass rush ability and could kick inside to the three technique in nickel situations as well. An NFL-ready defensive lineman.
28. New England Patriots: Danny Watkins, OG, Baylor
He's a bit older than most prospects, but I don't see that scaring the Patriots away in round one. He's a tough, mature kid with a good anchor at the point and sticks to blocks well through contact. Has a little Logan Mankins to his game.
29. Chicago Bears: Mike Pouncey, OL, Florida
I think the Bears would like to add a tackle here, but with a value like Pouncey still on the board — who can come in and fill a number of holes inside early in his NFL career — he might be too good to pass up.
30. New York Jets: Akeem Ayers, OLB, UCLA
His less than ideal 40 time (4.84) could cause him to fall a bit on draft day. However, the guy has a gifted skill set, plays faster on tape than he timed and could be a real find for the Jets at the end of round one. Has the ability to line up all over their linebacking corps in a 34 front.
31. Pittsburgh Steelers: Jimmy Smith, CB, Colorado
Smith is an intriguing talent, who if it wasn't for the character concerns would have gone much higher than this. However, if you get him in a veteran locker room like the Steelers have in place, he could end up being a real steal at this point in the first round.
32. Green Bay Packers: Benjamin Ijalana, OL, Villanova
Ijalana is a talented small-school prospect who exhibits the anchor to play inside and the length to play tackle. He gives the Packers some versatility to their offensive line, as well as some much needed talent and depth.