March 21, 2012 -
National Football Post
Mock Draft 5.0
Our newest mock draft of the season…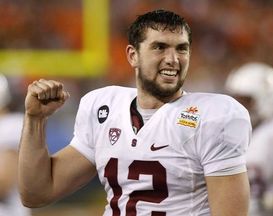 ICONLuck is stuck at one.
1. Indianapolis Colts: Stanford QB Andrew Luck
Seems like Luck to the Colts is still all but a lock.
2. Washington Redskins: Baylor QB Robert Griffin III
RG3 is the kind of athletic quarterback that would be an ideal fit in the Washington offense. He can make plays outside the pocket, throw on the run and create second lives with his legs.
3. Minnesota Vikings: LSU CB Morris Claiborne
If the Vikings are serious about taking the best player available, then Claiborne might be in play. He's a gifted corner who can play in just about any scheme and be a potential shutdown guy on the outside.
4. -TRADE- Miami Dolphins via Cleveland Browns: Southern Cal OT Matt Kalil
The idea of Kalil pairing with Jake Long has to sound intriguing to the Miami Dolphins. Kalil isn't going to stay on the board long if he slides past the Vikings and the Dolphins could be the team willing to go up and get him.
5. Tampa Bay Buccaneers: Alabama RB Trent Richardson
If you want a prospect who can take pressure off a young quarterback in the run game Richardson is your guy. He's strong, explosive, physical, and might be the safest prospect in the draft.
6. St. Louis Rams: Oklahoma State WR Justin Blackmon
Getting a big-play receiver for quarterback Sam Bradford is almost a must at this point. Blackmon can line up all over the offense and has the skill set to produce as a rookie.
7. Jacksonville Jaguars: South Carolina OLB/DE Melvin Ingram
The Jaguars pass rush revolves around high motor players with a relentless attitude. Ingram has that kind of motor, is a high character kid and can get after the quarterback from a number of spots on a defensive front seven.
8. –TRADE- Cleveland Browns via Miami Dolphins: Texas A&M QB Ryan Tannehill
Just how high has Tannehill risen? He's a talented quarterback who can make all the throws, is a good athlete and has a lot of upside. However, it will be interesting to see if the Browns go the franchise QB route or look at some other more talented prospects still on the board.
9. Carolina Panthers: Memphis DT Dontari Poe
The NFL Combine helped Poe as much as anyone. He's a massive kid with an elite combination of power, explosion and upside. His tape isn't great, but I think he's now a lock for the top 15 and the Panthers have a huge need inside for a body with his type of talent.
10. Buffalo Bills: Iowa OT Riley Reiff
Reiff is an athletic tackle with good range off the edge, natural change of direction skills and has the ability to sit into his stance on contact. He needs to get stronger and fill out a bit more. However, this former tight end recruit has the type of athleticism and demeanor to mature into the kind of blind side protector the Bills are looking for.
11. Kansas City Chiefs: LSU DT Michael Brockers
Brockers is as talented as any defensive lineman in the draft and is capable of maturing into a real game changer up front. He's got the ability to play all over the Chiefs defensive line early and offers them a lot of versatility in their 34 front.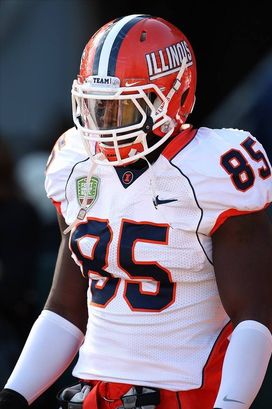 ICONMercilus looks the part.
12. Seattle Seahawks: Illinois DE Whitney Mercilus

13. Arizona Cardinals: Ohio State OT Mike Adams
The Cardinals have a lack of talent up front on the O-line and Adams is a guy who could play on either the right or left side and has the natural talent to win in both the run and pass game at the next level.
14. Dallas Cowboys: Alabama FS Dre Kirkpatrick
Some of the buzz coming out of the NFL Combine is that a number of NFL teams are now looking at Alabama DB Dre Kirkpatrick as the top safety prospect in the draft. Either way the Cowboys have needs still at both corner and safety and Kirkpatrick is the kind of versatile athlete that could play a big role at either spot.
15. Philadelphia Eagles: Mississippi State DT Fletcher Cox
Cox is the kind of potential three-technique who can create behind the line of scrimmage and stop plays before they start. The Eagles don't have a huge need at DT, but Cox could still mature into a playmaker inside, at a position where Philly lacks an impact guy.
16. New York Jets: Alabama OLB Courtney Upshaw
Upshaw is a thick, powerful kid who can line up all over the Jets 34 front and get after the passer. He's got the power to win consistently on contact vs. both the run and pass game and would be the kind of "NFL ready" prospect the Jets would love to get in the middle of round one.
Check out the rest of the mock on page two...