April 24, 2013 -
Erik Oehler
Mock draft analysis
The following mock draft consists of 32 selections from 29 team websites that are a part of the FanSided Network. The premise here is a simple one: Our friends from FanSided make the selections and the National Football Post provides the analysis.
The NFP's final mock draft of the season will go live on Thursday morning, but for now, let's see how things play out when we have 29 mock general mangers running the show.
CLICK HERE to check out the NFP Scouting Department.
1. Kansas City Chiefs: Geno Smith, QB, West Virginia
By: Patrick Allen, Arrowhead Addict
The Chiefs need to draft a quarterback and Geno Smith is the best signal-caller available. Sure, Kansas City got Alex Smith and gave up some high draft picks to do so, but what is wrong with investing some very high picks in the most important position in all of sports? This pick may be unlikely, but I'm playing general manager and I am doubling down on a quarterback.
<strong>Russ Lande: Although I believe the Chiefs need to find a quarterback for the long term, I would not take Geno Smith here as his issues with accuracy concern me. Personally, I would select Syracuse's Ryan Nassib if I were taking a quarterback or would pass on the position altogether in favor of a defensive lineman. Why trade current left tackle Branden Albert only to replace him with a draft pick? Sign Albert and draft Star Lotulelei to upgrade the defensive front.
2. Jacksonville Jaguars: Dion Jordan, LB, Oregon
By: Luke Sims, Black and Teal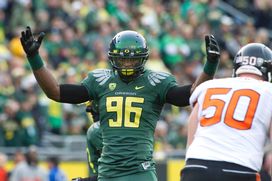 The Jaguars get their pass rusher of the future in Oregon's Dion Jordan.
The Jacksonville Jaguars need all the pass rush help they can get and Jordan enables the team to use him as a LEO position man in new head coach Gus Bradley's defense, as well as rely on his athleticism to provide even more flexibility on non-pass rushing downs.
Russ Lande: While drafting an offensive tackle is tempting, Jacksonville's current left tackle, Eugene Monroe, is a good player. The Jags need to drastically upgrade their pass rush and Dion Jordan is an ideal fit as the Leo in Coach Bradley's defense. Jordan has the ability to be productive both rushing the quarterback and defending against the run. The variety of coverage responsibilities makes him the perfect choice.
3. Oakland Raiders: Star Lotulelei, DT, Utah
By: Chris Shellcroft, Just Blog Baby
He's been called the best prospect in the draft. He also might be the biggest gamble health wise. With the Raiders rebuilding damn near the entire roster, the foundation for the future starts in the trenches. Star shines as the best defensive lineman in this draft and his versatility helps Dennis Allen in his under-the-radar transition to the 3-4.
Russ Lande: The Raiders have a multitude of needs and may consider Geno Smith if he slides to the third pick. However, with Richard Seymour and Tommy Kelly not returning, Oakland needs an influx of talent along their defensive line. Star is a powerful man with underrated athleticism and should be an impact player for the Raiders from day one.
4. Philadelphia Eagles: Luke Joeckel, OT, Texas A&M
By: Geoff Zlobinsky, Inside the Iggles
The Eagles had their best draft in years last April mainly because this was the first time the front office stuck to their draft board and took the best player available. I expect Philadelphia to do the same this year. Luke Joeckel is the best player in that draft, making this selection an easy one for new head coach Chip Kelly. If you have a top-5 pick, you can't afford to miss and Joeckel is the closest to a sure thing as there is in this draft. He'll help mend a broken offensive line.
Russ Lande: Despite several reports that the Eagles will draft quarterback Geno Smith, I think the team would pass on the West Virginia quarterback if he slides to them. In 2012, the Philadelphia offensive line struggled mightily and even with the return of left tackle Jason Peters, this unit still needs help. Luke Joeckel would give them a high-end right tackle and also provide significant insurance if Peters suffers any setbacks returning from injury.
5. Detroit Lions: Eric Fisher, OT, Central Michigan
By: Zac Snyder, Sidelion Report
After drafting Riley Reiff last April, the Lions should double-down to ensure Matthew Stafford's protection for the next decade. Reiff can play right tackle, or even right guard, while Fisher is charged with the task of replacing Jeff Backus.
Russ Lande: Although the Lions no doubt have to protect Matthew Stafford better in 2013, drafting a left tackle the year after taking Riley Reiff in the first round does not make sense to me. Detroit has lost both of their starting defensive ends (Kyle Vanden Bosch and Cliff Avril) so they have a desperate need at the position and would be better suited taking Ezekiel Ansah or Bjoern Wener.
6. Cleveland Browns: Dee Milliner, CB, Alabama
By: Steve DiMatteo, Dawg Pound Daily
This one is easy. The Browns are in desperate need of secondary help, as the team possesses no real complement to Joe Haden. With additions made to the linebacker and defensive line positions through free agency, Milliner is a must-have for the Browns at No. 6.
Russ Lande: With Joe Haden manning one cornerback spot, the Browns give themselves the best pair of young cornerbacks in the league by drafting Dee Milliner. A strong and physical cornerback with rare athleticism and speed for his size, Milliner has everything it takes to be a high-end starting cornerback in the NFL.
7. Arizona Cardinals: Lane Johnson, OT, Oklahoma
By: Scott Allen, Raising Zona
Johnson is the offensive tackle the Arizona Cardinals so desperately need. With Joeckel and Fisher off the board, the Oklahoma product is a no-brainer for Arizona on their path back to respectability along the offensive line.
Russ Lande: After making the move to acquire quarterback Carson Palmer this offseason, the Cardinals need to find a way to protect their new signal-caller. While Lane Johnson is raw right now, there is no doubt about his athleticism and potential. Johnson has come a long way in only two years playing the offensive tackle position and I believe he will continue to improve to in the future.
8. Buffalo Bills: Chance Warmack, OG, Alabama
By: Dennis Amo, BuffaLowDown
The Bills are looking for a franchise quarterback and while Ryan Nassib appears to be a perfect fit, the eighth spot is a little too high for him. I expect the Bills to trade back to a late first/early second selection to grab Nassib. If this is not the case and Buffalo stands pat, look for the Bills to fill a need that had them playing five different players at the guard position last season. Buffa lo will secure their offensive line with Chance Warmack out of 'Bama.
Russ Lande: Although many believe this is too early for the Bills to select quarterback Ryan Nassib, if they wait and hope to draft him in the second round, the Syracuse signal-caller will be long gone. So I think the Bills would be taking a huge gamble to draft a guard, of all things, with the quarterback position on the team in complete flux.
9. New York Jets: Barkevious Mingo, OLB, LSU
By: Alan Schechter, The Jet Press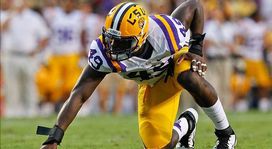 US PRESSWIREThe Jets look to the defensive side of the ball with the first of their two first-round selections.
Assuming no trade is made and the Jets aren't doubling back to make a choice at No. 13, New York goes with Mingo in this spot. The organization loves Oregon's Dion Jordan, but Mingo will finally give Rex Ryan the type of edge pass rusher that his style of defense desperately needs.
Russ Lande: One of the big problems the Jets have had in recent seasons is the inability of their defense to pressure the quarterback and force turnovers. Barkevious Mingo would be a great fit as a rush linebacker in their defense. His explosiveness off the ball and athleticism and feel to defeat pass blocks would enable the LSU standout to make an instant impact rushing the passer for the Jets.
10. Tennessee Titans: Sharrif Floyd, DT, Florida
By: Joshua Huffman, Titan Sized
With Chance Warmack gone at No. 8, the Titans could still fix their most pressing need by selecting North Carolina offensive guard Jonathan Cooper. But can Tennessee pass on a defensive lineman who is as talented as Sharrif Floyd? Even with two solid starters (Jurrell Casey, Mike Martin) and serviceable depth (Sammie Lee Hill, Karl Klug, Ropati Pitoitua), the Titans could use BPA on the defensive line.
Russ Lande: Since losing Albert Haynesworth a few seasons ago, the Tennessee defense has not been the same as they have lacked a dominant interior force along the defensive line. Floyd would give the Titans a quick-off-the-ball defensive tackle who could shoot gaps and blow up plays behind the line of scrimmage. He would immediately upgrade their defensive attack.
11. San Diego Chargers: Kenny Vaccaro, S, Texas
By: Ernie Padaon, Bolt Beat
Jonathan Cooper is still on the board and Chargers fans are probably going to hate that I passed on him. San Diego's need is for any offensive lineman, but they have to take the best player on the board. I struggled between Tavon Austin and Kenny Vaccaro and eventually settled with Vaccaro. Teaming up Vaccaro and Eric Weddle in the secondary will give the young Chargers defense a strong defensive backfield.
Russ Lande: With all of the top offensive tackles no longer on the board, the Chargers have to adjust their draft plans. San Diego needs to upgrade their secondary, as Eric Weddle is the organization's only quality returning starter. Kenny Vaccaro is a versatile safety with elite talent who could dramatically upgrade the backend of the Chargers defense and would pair exceptionally well with Weddle.
12. Miami Dolphins: Tyler Eifert, TE, Notre Dame
By: Brian Miller, Phin Phanatic
The Dolphins will likely attempt to trade down and gain another second round pick. Miami needs cornerback help, but the difference between Florida State's Xavier Rhodes and a second round player is minimal. The Dolphins need to find a long-term solution at tight end and Eifert more than fits that need. Even with the free agent signing of Dustin Keller, the Dolphins need to address the tight end position. Eifert and Keller will give Miami a deadly one-two combination in the red zone.
Russ Lande: I believe the Dolphins will make a big effort to trade up in order to acquire one of the draft's top offensive tackles. But with all of them gone at this point, the Dolphins get another big-play weapon for second-year quarterback Ryan Tannehill in Notre Dame's Tyler Eifert. Eifert is an elite athlete with great ball skills who reminds me of Jimmy Graham.
13. New York Jets: D.J. Hayden, CB, Houston
By: Patrick Allen, The Jet Press
With Darrelle Revis now out of the picture, the Jets have to rebuild their cornerback depth. Some analysts have Hayden ranked ahead of Alabama's Dee Milliner. With two defensive picks in the top-15, Rex Ryan can now work towards returning the once-dominant New York defense back to form. This move will also allow the Jets to focus on beefing up the offense during the later rounds.
Russ Lande: With Darrelle Revis now in Tampa, the Jets use their second first-round pick to replace him. Considering that DJ Hayden's football career was thought to be over when he was injured in November, it is pretty remarkable that he is now healthy and ready to play in the NFL.
14. Carolina Panthers: Sheldon Richardson, DT Missouri
By: Peter Smith, Cat Crave
The Panthers have great ends but little to nothing at the defensive tackle positions. Richardson is arguably the best 3-technique defensive tackle in the draft, with the ability to penetrate and rush the passer. The combination of Richardson, Greg Hardy and Charles Johnson creates a nightmare scenario for opposing teams in obvious passing situations.
Russ Lande: With defensive ends Charles Johnson and Greg Hardy, Carolina already possesses a strong outside pass rush. But the team needs to upgrade their interior defensive line play. Sheldon Richardson is an explosive off-the-ball player who is able to consistently generate backfield penetration in order to blow up plays behind the line of scrimmage.
15. New Orleans Saints: Ezekiel Ansah, OLB, BYU
By: Chris Roling, Who Dat Dish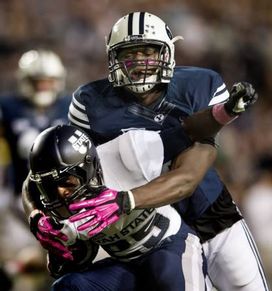 US PRESSWIREHaving ranked dead last in the NFL in total defense last year, the Saints use the first round to address that problem.
Ezekiel Ansah is arguably a top-five talent, so he's a steal here for the Saints at No. 15. New Orleans is implementing a new 3-4 scheme under defensive coordinator Rob Ryan and needs pass rushers to be effective. This selection really came down to Ansah or outside linebacker Jarvis Jones, since the top defensive backs are already off the board. In Ansah you get an elite, albeit raw, physical specimen without the injury concerns enshrouding Jones. Ansah is an immediate starter and game-changer and a major step in the right direction for the worst statistical defensive unit of all time a year ago.
Russ Lande: As the Saints make the switch to a 3-4 defense they need to find edge pass rushers. Ezekiel Ansah is a rare athlete with great size and strength and the potential to be a dominant NFL player.
16. St. Louis Rams: Cordarrelle Patterson, WR, Tennessee
By: Nathan Kearns, Ramblin Fan
With the departure of wide receivers Danny Amendola and Brandon Gibson, there is a gaping hole in the St. Louis wide receiving corps. Patterson might be one of the most physically gifted players in the draft and can contribute from nearly any spot on the field. "Readiness" and "rawness" have been the major knock against Patterson, but if the St. Louis Rams genuinely want to jump-start their stagnant offense, they will have to take a "risk" to gain this potentially franchise-changing "reward." Plus, having that extra first rounder doesn't hurt.
Russ Lande: In order for the Rams to take the next step, quarterback Sam Bradford needs to continue to develop. The Rams already signed left tackle Jake Long to improve their pass protection and now need to acquire weapons for Bradford. Patterson is a rare physical specimen who can change games when he has the ball in his hands and gives Bradford an explosive, big-play weapon.
17. Pittsburgh Steelers: Arthur Brown, ILB, Kansas State
By: Craig Gottschalk & Dom Di Tolla, Nice Pick Cowher
Outside of Lawrence Timmons, the Steelers' situation at inside linebacker is a mess and Pittsburgh's brass seems to be very interested in Arthur Brown. At his pro day workout, Brown measured in at a stout 6-0, 241 pounds and erased concerns about his overall weight and speed in front of multiple members of the Steelers' staff. Since he transferred from the University of Miami (FL) to Kansas State two years ago, Brown emerged as one of the best players in the Big XII. Overall, Brown recorded 101 and 100 tackles during his junior and senior campaigns to go along with 16.0 combined tackles for loss and 3 interceptions.
Russ Lande: While the Steelers desperately need to upgrade their outside pass rush, none of the outside pass rushers currently available fit their plans. So they select Kansas State's Arthur Brown, whose explosiveness, speed and instincts make him an impact inside linebacker.
18. Dallas Cowboys: Jonathan Cooper, OG, North Carolina
By: Steven Mullenax, The Landry Hat
The Dallas Cowboys are rumored to like 15 different players in the first round of the NFL draft. It will be a tough choice if Cooper, D.J. Fluker and Tavon Austin are all still on the board at No. 18. But the Cowboys' need on the interior of their young offensive line combined with the talent rating of Cooper should be too much for Dallas to ignore. Plus, they just locked up quarterback Tony Romo for $108 million and they need to protect their investment.
Russ Lande: The Cowboys have a surprising number of needs and upgrading their offensive line is a big one. Jon Cooper is an athletic guard who is very productive blocking in-line and out in space. He would start from Day 1 and provide an immediate upgrade for their offensive line.
19. New York Giants: Jarvis Jones, OLB, Georgia
By: James Ferguson, G-Men HQ
The National Football Post reported Georgia outside linebacker Jarvis Jones' neck injury is starting to look like it might be a non-factor on draft day and that there is little chance the Bulldog falls out of the top ten. Teams like the Giants, who run like a well-oiled machine year in and year out, are the type of franchise that is encouraged by taking a chance on a guy like Jones. Where so many other teams will pass on him due to his medical red flags, the Giants will perform their due diligence to find him healthy and a heck of a football player.
Russ Lande: With Osi Umenyiora now a Falcon and Justin Tuck coming off a down year, the Giants need to upgrade their pass rush. While Jones is best suited to play outside linebacker in a 3-4 defense, his speed on the outside gives him the chance to contribute as an edge pass rusher for Big Blue.
20. Chicago Bears: Alec Ogletree, LB, Georgia
By: Mike Burzawa, Bear Goggles On
Brian Urlacher is gone and the Bears desperately need to get younger on the defensive side of the ball. Despite signing D.J. Williams to handle the middle linebacker duties, he's served a couple of suspensions and is on the wrong side of 30 just like most of the impact players on the Chicago defense. Georgia's Alec Ogletree offers a dynamic playmaker who can cover plenty of ground in the next generation of Chicago Bears defense. Playing alongside veteran linebackers like Lance Briggs, Williams and James Anderson, Ogletree will learn the ropes from some professional linebackers and become an immediate difference maker for the Bears defense.
Russ Lande: With Brian Urlacher no longer a Bear, Chicago no doubt needs to find a new middle linebacker to anchor their defense. Ogletree is the most physically gifted inside linebacker in the draft and if he can take care of his business off the field, he could become a star for the Bears.
21. Cincinnati Bengals: DJ Fluker, RT, Alabama
By: Jason Marc, Stripe Hype
If the Bengals go into Thursday's draft with offensive tackle Andre Smith unsigned, they won't hesitate to draft his replacement from the same school. The difference with Fluker is that he could conceivably play guard or tackle, so this could be the pick even if Smith does re-sign. Fluker could be moved to left guard to supplant Clint Boling, or be groomed at left tackle to eventually replace Andrew Whitworth. Fluker is a massive run blocker who still has room to improve in pass protection, but in 2-3 years, he could be as good, if not better than Smith, and not nearly as much of a headache.
Russ Lande: Although rumors have been circulating that the Bengals may re-sign right tackle Andre Smith, I believe that will only happen if D.J. Fluker is not on the board when Cincinnati picks. Fluker is a massive man with long arms and very good feet who can handle the right tackle spot with ease.
22. St. Louis Rams: Matt Elam, SS, Florida
By: Nathan Kearns, Ramblin Fan
If the St. Louis Rams want to compete in the NFC West, an upgrade at the safety position is a must. With Craig Dahl and Quintin Mikell gone, there are currently two openings in the deep secondary. Fisher has hinted that Darian Stewart will likely get the nod at one of those spots, meaning the Rams need a hard-hitting, run-stopping strong safety in the draft. Matt Elam is a tad undersized, but hits like a linebacker. He is excellent in the box and can also be moved around in blitz packages. Physicality and effort are underrated attributes; Elam will bring them both to an already talent-filled secondary
Russ Lande: If St. Louis is going to continue rebuilding, the team needs to improve their secondary. While Matt Elam lacks ideal height, he is an instinctive defender who flies around the field making impact plays. He would have some issues in pass coverage, but would bring great energy, intensity and toughness to the Rams' defense.
23. Minnesota Vikings: Tavon Austin, WR, West Virginia
By: Dan Zinski, The Viking Age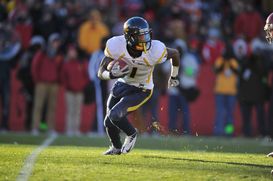 US PRESSWIREThe Vikings rejoice as Tavon Austin falls all the way to No. 23.
Tavon Austin is tiny. He is not Percy Harvin. It probably makes no sense to try and replace the completely unique Harvin, but to heck with all that. Austin is too dynamic a talent to pass up. With Patterson off the board, Austin is the one receiver with the wow factor.
Russ Lande: After trading away Percy Harvin, the Vikings need an explosive, big-play receiver and Austin is that guy. The West Virginia product is the most dynamic offensive weapon in this year's draft and would immediately make Christian Ponder a better quarterback.
24. Indianapolis Colts: Xavier Rhodes, CB, Florida St.
By: Ernie Padaon, Naptown's Finest
The Colts lost Jerraud Powers in the offseason and it would be hard to pass on FSU's Xavier Rhodes if he is still on the board at this point in the draft.
Russ Lande: The Colts' offense made great strides in 2012 with Andrew Luck at the helm. However, the organization still needs to upgrade its secondary and Xavier Rhodes is the big, strong and athletic cornerback that could fill that need.
25. Minnesota Vikings: Desmond Trufant, CB, Washington
By: Dan Zinski, The Viking Age
The Vikings need an insider linebacker bad. But in today's NFL, there is no way you pass on a corner like Trufant.
Russ Lande: After adding a big-play weapon with their first-round pick, the Vikings make a strong move to replace longtime cornerback Antoine Winfield with Washington's Desmond Trufant. He is a quick, fluid and instinctive cornerback who should start early in his NFL career.
26. Green Bay Packers: John Cyprien, S, Florida International
By: Ray Rivard, Lombardi Ave
The Packers need help up the middle all the way from running back to safety and Cyprien brings that element of nastiness as well as smarts that the Packers have been missing on the defensive side of the ball. Green Bay has plenty of holes and general manager Ted Thompson may go with a defensive line pick, but I'm going with Cyprien because he's the best safety available at this point in this mock. But in reality, I wouldn't be totally surprised to see Thompson trade down out of the first round for more choices. Remember, he does very little in free agency and heavily relies on drafted and undrafted players to fill out his roster. Draft and develop is Thompson's rallying cry.
Russ Lande: With Charles Woodson no longer patrolling the backend of the Packers' defense, Green Bay is in the market for a replacement. Although Cyprien played at Florida International, he's a premier prospect with the size and athleticism to excel in both run support and coverage.
27. Houston Texans: Keenan Allen, WR, Cal
By: Peters Smith, Toro Times
The Texans have been looking for a No. 2 receiver for as long as they have had Andre Johnson on the roster. Here, Houston gets lucky and adds another No. 1 in Allen to play across from Johnson. On tape, this guy is the best receiver in the draft.
Russ Lande: It seems like every year we expect the Texans to draft a receiver in the first round, only for the organization to go in different direction. But this year they cannot pass on the chance to draft Keenan Allen who is a big receiver with excellent all around talent. Allen would be a great pairing with Andre Johnson and would make the Texans' dangerous offense even scarier.
28. Denver Broncos: Bjoern Werner, DE, Florida State
By: Sayre Bedinger, Predominantly Orange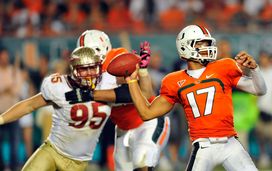 US PRESSWIREThe Broncos fill the void left by Elvis Dumervil with the selection of FSU's Bjoern Werner.
The Broncos have a hole to fill with Elvis Dumervil leaving for Baltimore. Of course, Robert Ayers is expected to step up into Dumervil's vacant spot, but outside of Von Miller, the Broncos no longer have a proven pass rusher on the roster. I think Werner signifies excellent value (No. 5 on my big board) and has terrific upside at this juncture. He's more proven than Tank Carradine, which is why he gets the nod here.
Russ Lande: Since a fax snafu cost the Broncos defensive end Elvis Dumervil, Denver must find another pass rusher. Werner is a highly competitive defensive end with great technique who is underrated athletically, all of which should lead to him being a high end pass rusher and run defender in the NFL.
29. New England Patriots: Tank Carradine, DE, Florida State
By: Joe Soriano, Musket Fire
Werner and Carradine are close to equal and the only reason why Werner was higher on my board was because of Carradine's ACL tear. But the Pats are drafting long-term, so Carradine's injury shouldn't mean too much. He might lose some explosion, but it's clear that ACL tears aren't what they used to be—that is, they aren't career-destroyers or deal-breakers. In fact, Carradine might have more talent than Werner with his mix of speed and explosiveness. I would take him in order to possess a great duo of defensive ends in Carradine and Chandler Jones.
Russ Lande: In recent seasons, the Patriots have struggled to consistently pressure the quarterback and that is why their defense has not made as many big-time, game-changing plays. Carradine is a strong and powerful pass rusher who plays with great effort and excels against the run, which makes him a great fit for outside linebacker in New England's defense.
30. Atlanta Falcons: Jamar Taylor, CB, Boise St
By: Ronny Hurd, Blogging Dirty
The Falcons enter this year's draft with a lack of depth at the cornerback position. The team released Dunta Robinson due to cap constraints, while fellow cornerback Brent Grimes signed with the Miami Dolphins during free agency. Jamar Taylor, whose stock is rapidly rising after having a very good showing at the Combine, would enter a perfect situation with the Falcons. He would be able to learn from one of the league's top cornerbacks in Asante Samuel and he would receive a lot of playing time in his rookie season with the depth issues at cornerback.
Russ Lande: With Dunta Robinson and Brent Grimes no longer on the roster, the Falcons have a desperate need at the cornerback position. Taylor is a physical and aggressive cornerback with the foot quickness, hips and speed to step in as a starter his rookie season.
31. San Francisco 49ers: Duke Williams, S, Nevada
By: Ryan Sakamoto, Niner Noise
General manager Trent Baalke sorely needs a replacement at the free safety position, which paves the way for Duke Williams as the pick.
Russ Lande: Dashon Goldson bolted for Tampa Bay during free agency, so the 49ers need to acquire a new playmaker for the backend of their defense. A great player at Nevada, Williams will help the 49ers greatly with his ability to be effective in run support, deep