January 04, 2012 -
National Football Post
Mock Draft: Version 1.0
Our first full mock draft of the 2012 NFL Draft Season.
Enjoy… and BE SURE TO VOICE YOUR OPINION!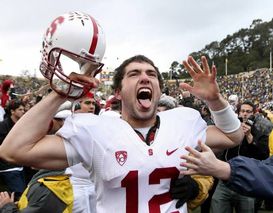 ICONCan anyone catch Luck?
1. Indianapolis Colts: Stanford QB Andrew Luck
Even with the Peyton Manning decision looming, Luck is still the best prospect on the board at a position the Colts have future questions at.
2. St. Louis Rams: Oklahoma State WR Justin Blackmon
It's very possible the Rams will at look at USC OT Matt Kalil here. However, they have invested a ton of money on the offensive line in recent years and getting a big-play receiver for quarterback Sam Bradford and then looking to fix the offensive line later on might be a better play.
3. Minnesota Vikings: Southern Cal OT Matt Kalil
Quarterback Christian Ponder has shown flashes in year one, but he needs to stay healthy. Therefore, bringing in the top offensive tackle prospect in the draft who has a chance to mature into a Pro Bowl-caliber lineman seems like an easy selection at three.
4. Cleveland Browns: Baylor QB Robert Griffin III
The Browns need to upgrade the quarterback position and RG3 has the kind of talent, confidence and overall work ethic to make good on his elite upside.
5. Tampa Bay Buccaneers: LSU CB Morris Claiborne
Tampa Bay has done a great job over the past two drafts improving the overall talent along its defensive line. Therefore, adding a playmaking corner who can capitalize on all the future pressure is a must for this defense to take that next step.
6. Washington Redskins: Alabama CB Dre Kirkpatrick
With no quarterbacks on the board worthy of the number six overall selection, look for the Redskins to take one of the best prospects on the board at a key need and try to trade back into the later portions of round one for the quarterback they desire.
7. Jacksonville Jaguars: South Carolina WR Alshon Jeffery
Coming off his big bowl game performance against Nebraska's Alfonzo Dennard, Jeffery now has some momentum going his way and could begin to really ascend up draft boards. He's a long kid with sneaky speed down the field and knows how to go get the football. And he has the talent to instantly improve the Jags' receiving corps.
8. Carolina Panthers: Penn State DT Devon Still
The Panthers need a big body inside who can anchor on contact, push the pocket and find the football. Still isn't a dynamic pass rusher and there are some other linemen on the board with more talent. But he has the size to fend off blocks inside and in my mind is one of the safer defensive tackle prospects in this year's draft.
9. Miami Dolphins: Alabama OLB Courtney Upshaw
Much like the Redskins, with no quarterback on the board worthy of a top ten pick, the Dolphins could be forced to address a need elsewhere. With OLB Jason Taylor retiring, Miami is going to be in need of pass rusher opposite Cameron Wake and Upshaw's power would be a nice complement.
10. Buffalo Bills: Iowa OT Riley Reiff
Reiff is an athletic tackle with good range off the edge, natural change of direction skills and has the ability to sit into his stance on contact. He needs to get stronger and fill out a bit more. However, this former tight end recruit has the type of athleticism and demeanor to mature into the kind of blind side protector the Bills are looking for.
11. Kansas City Chiefs: Stanford OT Jonathan Martin
Martin not only adds talent to the Chiefs offensive line, but he allows them to move LT Branden Albert to either right tackle or left guard.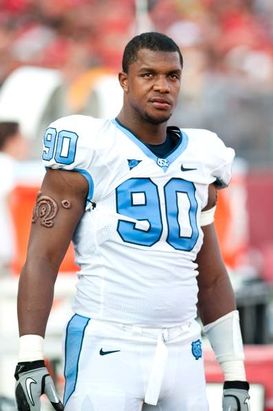 ICONWhen motivated Coples can be unblockable.
12. Seattle Seahawks: North Carolina DL Quinton Coples
The Seahawks have a real unique blend of athletes on the defensive side of the ball and because of that it makes me think Coples would be able to fit right in and fill a number of roles at both DT and DE. Plus, Pete Carroll seems like the kind of coach that could get the most out of Coples's talent.
13. Arizona Cardinals: South Carolina OLB/DE Melvin Ingram
Ingram has the ability to play with his hand on the ground or rush off the edge from a two-point stance. He's a sudden pass rusher with natural change of direction skills, long arms and could offer some talent and versatility to the Cardinals defense on third down.
14. Dallas Cowboys: Stanford: OG David DeCastro
The idea of drafting an athlete like DeCastro and potentially playing him next to 2011 first-round pick Tyron Smith at left tackle has to sound mighty intriguing.
15. Philadelphia Eagles: Boston College ILB Luke Kuechly
A tackling machine with good size, natural instincts and knowledge to fend off blocks and find the football. Is the kind of talent the Eagles need inside to improve their struggling linebacking corps.
16. New York Jets: Alabama RB Trent Richardson
If the Jets are going to be successful, they have to get back to their ground and pound ways. And the idea of Trent Richardson and Shonn Greene as their one-two punch might be too good to pass up.
For picks 17-32 click to page two...
Follow me on twitter: @WesBunting