January 30, 2012 -
National Football Post
Mock Draft: Version 2.0
Our newest mock draft of the season…
1. Indianapolis Colts: Stanford QB Andrew Luck
With news coming out this past weekend that the Colts possibly have already made up their mind on QB Peyton Manning, Luck is looking more and more like a slam dunk.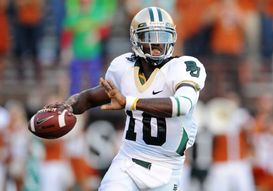 ICONRG3 moves up to number two.
2. -TRADE- Washington Redskins via St. Louis Rams: Baylor QB Robert Griffin III
RG3 is the kind of athletic quarterback that would be an ideal fit in the Washington offense. He can make plays outside the pocket, throw on the run and create second lives with his legs.

3. Minnesota Vikings: Southern Cal OT Matt Kalil
Quarterback Christian Ponder has shown flashes in year one, but he needs to stay healthy. Therefore, bringing in the top offensive tackle prospect in the draft who has a chance to mature into a Pro Bowl-caliber lineman seems like an easy selection at three.

4. Cleveland Browns: Oklahoma State WR Justin Blackmon
Quarterback is the biggest missing piece in Cleveland. However, if they can't land RG3, getting one of the best offensive weapons in the draft is a nice consolation prize.

5. Tampa Bay Buccaneers: LSU CB Morris Claiborne
Tampa Bay has done a great job over the past two drafts improving the overall talent along its defensive line. Therefore, adding a playmaking corner who can capitalize on all the potential pressure is a must for this defense to take that next step.

6. –TRADE- St. Louis Rams via Washington Redskins: LSU DT Michael Brockers
As bad as the Rams need to add talent on the outside at receiver, they are also in need of some talent inside at DT. Brockers has the talent to develop into an All-Pro caliber lineman for the Rams and they can always add a receiver with their additional picks from the Redskins later in the draft.

7. Jacksonville Jaguars: Alabama CB Dre' Kirkpatrick
Kirkpatrick adds a physical element to the Jaguars secondary. He's got the ability to press off the line, make plays in zone and consistently tackle the ball carrier. Plus, he has the size to handle some of the bigger wideouts in the AFC South.

8. Carolina Panthers: Penn State DT Devon Still
The Panthers need a big body inside who can anchor on contact, push the pocket and find the football. Still isn't a dynamic pass rusher and there are some other linemen on the board with a little more talent. But he has the size to fend off blocks inside and in my mind is one of the safer defensive tackle prospects in this year's draft.

9. Miami Dolphins: Iowa OT Riley Reiff
Who knows how the Dolphins offensive line is going to look after free agency. They have some potential holes looming and bringing in a talent like Reiff who can play both inside and out gives the Fins another talented blocker who eventually should win in both the run and pass game.

10. Buffalo Bills: Stanford OT Jonathan Martin
Martin is a finesse tackle with good feet, natural range and the ability to mirror in space. He has some holes in his game, but offers the Bills a better athlete than anyone playing their tackle spots now.

11. Kansas City Chiefs: Stanford OG David DeCastro
The Chiefs need to improve at a number of spots up front on their offensive line and DeCastro is by far the best prospect still on the board.

12. Seattle Seahawks: North Carolina DL Quinton Coples
The Seahawks have a real unique blend of athletes on the defensive side of the ball and because of that it makes me think Coples would be able to fit right in and fill a number of roles at both DT and DE. Plus, Pete Carroll seems like the kind of coach that could get the most out of Coples's talent.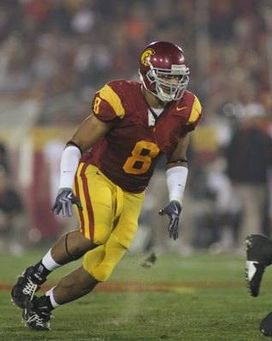 ICONPerry could rise with a big postseason.
13. Arizona Cardinals: Southern Cal DE/OLB Nick Perry
Finding a long term complement for OLB Sam Acho this offseason is becoming more and more of a need for the Cardinals. Perry is a little tight, but has a great first step, is learning to use his hands better and can cleanly turn speed into power off the edge.

14. Dallas Cowboys: Wisconsin OL Peter Konz
Center and guard are both needs in Dallas and the idea of adding a potential blue-chip lineman who has the skill set to play either spot is simply too good to pass up even at 14.

15. Philadelphia Eagles: Boston College ILB Luke Kuechly
A tackling machine with good size, natural instincts and knowledge to fend off blocks and find the football. Is the kind of talent the Eagles need inside to improve their struggling linebacking corps.

16. New York Jets: Alabama OLB Courtney Upshaw
Upshaw is a thick, powerful kid who can line up all over the Jets 34 front and get after the passer. He's got the power to win consistently on contact vs. both the run and pass game.
Follow me on twitter: @WesBunting
Click to page two for the rest of the mock draft...