July 14, 2014 -
Dr. David Chao
Monday Morning MD
Starting this season, all 32 NFL teams will have a common electronic medical records system. The league has been gradually mandating this change over the last two years. It began with a couple of pilot clubs and expanded to eight teams last year. This marks a significant improvement in league-wide medical care.
Improved history allows for improved medical care. In the past, when a team was on the road, there was no easy way to bring the medical records of all 53 players. A team physician would have to mentally know their athletes' histories, allergies and current medications. Now, these records will be at their fingertips.
When a player is seeking a new team, it is routine for each to perform full physicals. Much of the testing is repeated by each team since there was no intercommunication of records. This no longer needs to happen.
When I was interviewed by former NFL player Ross Tucker on SiriusXM NFL and on his podcast, he bemoaned that when I gave him a free agent physical, he had to receive a Combine-like exam and many of his tests and x-rays were repeated from other teams he just saw days ago. That additional radiation exposure is no longer needed with a league-wide electronic medical record system.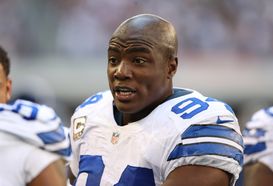 The NFL's new electronic medical records system will make life easier for free agents like DeMarcus Ware.
The transition is a complicated process, as there needs to be full compliance with the federal Health Insurance Portability and Accountability Act (HIPAA) that has significant privacy provisions. There are many specific rules for privacy of all patients and NFL players are no exception.
DeMarcus Ware was a big free agent acquisition for the Broncos this offseason. His Cowboys medical records will be automatically transferred electronically to the Denver medical staff and the Dallas physicians will be denied access to his subsequent records. Only medical personnel actively treating a player will have access. In other words, a team could not preview a player's medical health when contemplating a trade or free agent acquisition. Also, teams will not be able to access opposing team's health records for competitive advantage.
In the past, medical records stayed with the previous team. Of course, the player is allowed access to his medical records. Upon request, a copy of this medical chart is provided to any athlete. It was not automatic that the previous team would forward records to the new team.
Technological improvements to medical care have been coming for some time. Baseline concussion tests are performed on computers. Return to play is partly gauged by post-concussion computer tests. Tablets were used on every sideline/locker room last year to document the care of concussed players.
Some have indicated that this electronic medical records system will protect teams from non-disclosure of injuries as athletes move to new clubs. Although that could be one motivation, it really is just the NFL progressing with the times and improving care, like most doctor's offices and hospitals who are installing electronic medical records.
MMMD 1: The arthroscope: a landmark in the NFL
As the MMQB concludes its two-month series on the 95 artifacts that tell the story of 95 years of the NFL, the arthroscope is significant on the list. Indeed the "scope" changed the NFL.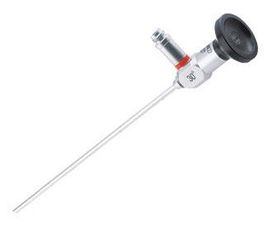 The arthroscope.
An arthroscope is a simple tube-like structure with a lens and light that allows a surgeon to see into joints without making a big incision. This allowed for new procedures with faster recoveries and has saved thousands of NFL careers.
The development of the scope in the 1970s and the popularization of usage in the 1980s was indeed a game-changer. It began with being able to treat simple meniscus tears and return to play in weeks when the old open method often ended a season.
Nowadays, its not just knees. Shoulders, elbows, wrists, hips, ankles and, on occasion, fingers and toes are all joints that can be treated arthroscopically.
MMMD 2: What is AOSSM?
The American Orthopedic Society for Sport Medicine (AOSSM) is the main organization that all sports team physicians belong to. I just returned from Seattle where this year's big annual summer meeting was held. Although there is considerable professional interaction and meetings at the Combine, this conference is the single biggest interchange of sports medicine topics and treatments.
It is not limited to football, as team physicians from all sports were in attendance. In fact, when Yankees pitcher Masahiro Tanaka had elbow issues, he flew all the way across the country to have his team physician and several other specialists examine him at the same time in Seattle.
Unlike other facets of the sports world, doctors have no secrets from each other when it comes to medicine advances. We certainly don't share confidential patient information, but we do openly share new treatments in order to improve medical care.
MMMD 3: Mandatory concussion examinations by independent physicians?
During the World Cup final in what appeared to be a reaction to the handling of a concussed German player, NFLPA assistant executive director George Atallah tweeted, "The NFLPA and NFL instituted mandatory concussion examinations by independent physicians and proper return to play protocols."
The NFL is way ahead of FIFA on concussion protocols. However, the NFL does not currently mandate independent physician exams during a game. Independent sideline neuro specialists are available and their use is highly encouraged, but a team physician is allowed to make decisions. If there is a concussion diagnosed, a neuro specialist must be consulted prior to return to contact the following week as part of the concussion protocol.
I am not sure if Atallah was foreshadowing a new, yet unannounced league medical policy or if it was the excitement of the moment and limitations of 140 characters on twitter.
MMMD 4: Preliminary settlement to concussion litigation approved
A federal judge approved concussion settlement terms after the $765 million cap was removed. This doesn't mean the issue is over, as this preliminary approval is only step one.
Some players complained the proposed settlement was a lousy deal and paid attorneys too much money for the little work that was done, as no depositions were even taken. Individual players will have the ability to opt out of the settlement, but litigating individually is costly and difficult.
MM MD 5: DEA probe of NFL locker rooms?
A recent New York Daily News headline stated, "Feds quietly investigating prescription drug abuse in NFL locker rooms, sources say." It states the query began as a result of the recent painkiller lawsuit.
I have no direct knowledge if there is a new Drug Enforcement Agency (DEA) investigation. It is common knowledge that prescription drug abuse is a DEA priority nationwide. However, the DEA has been working in cooperation with the NFL and team physicians for at least four years. Several years ago, the DEA even presented information and answered questions at the NFL Physicians Society annual conference as part of the annual Combine.
Team physicians are well aware of the DEA rules and no one from the DEA has ever charged a team physician with breaking the law related to prescription drugs. The "new" story might be "old" news.
MMMD 6: NCAA president Mark Emmert on Congressional hot seat
NCAA President Mark Emmert.
Congressional hearings were held last week to explore the issues of NCAA athletes. Some might ask why Senators need to jump in on college sports?
The reality is that Washington has been involved in the NCAA since its inception. The NCAA was formed as a result of White House meetings, which took place in 1905, amid calls to discontinue football over injuries and some deaths.
It is interesting that Emmert testified that the NCAA should, "lead in the area of health and safety." The Northwestern college athlete union movement began over student concerns of a lack of "medical coverage and medical protection." Let's not forget the NCAA charter was originally to insure player health and not for negotiating television contracts.
MMMD 7: Last of the NFL quiet period
By the time of my next column, some training camps will have begun. Many clubs bring in rookies and players coming off injury early. The Buccaneers are first to start with rookies reporting on July 17. The Cowboys and Dolphins veterans are first to start on July 20.
Fans may view the first regular season game as the start of the season, but NFL coaches and players see it as the start of training camp. The medical focus will be on athletes coming off of season-ending injuries. All of the off-season activities attempt to get a player ready for training camp. We will soon see who is ready and who is not. Let the football season begin.
MMMD extra: ACL surgery series – Week 26
As we continue to follow hypothetical ACL recoveries of the same day surgeries of Patriots tight end Rob Gronkowski and Broncos linebacker Von Miller, they are hardly the only NFL players to undergo that procedure this last year. Browns projected starting quarterback Brian Hoyer is also coming off ACL reconstruction surgery.
Hoyer recently stated that he is coming back stronger after ACL surgery, but is that even possible? The answer is yes.
First, with the concentrated rehab and dedicated lower extremity workout, it can strengthen ones legs considerably. Of course, without an ACL tear but with the same regimen, one can achieve the same results.
In addition, after successful ACL surgery, I tell my patients that if they were to tear an ACL again, it is twice as likely to be the opposite knee. Certain athletes have a predisposition to tear their ACL and to have bilateral injuries are not uncommon. In addition, part of many ACL surgeries is a notchplasty (more room for ACL graft and less chance of tearing) as well as the rehab being preventative.
I am certainly not saying that tearing an ACL is a good thing, but with good surgery and hard work during rehab, it is indeed possible to come back stronger than before.
Follow David on Twitter: @profootballdoc
Dr. David Chao is a former NFL head team physician with 17 years of sideline, locker and training room experience. He currently has a successful orthopedic/sports medicine practice in San Diego.