January 14, 2013 -
Erik Oehler
Monday's Review of East West Shrine Game Practices.
After this morning's weigh-in, the East and West squads had their first practices of the week in front of NFL scouts/personnel and media. Unfortunately, former UCLA TE Joseph Fauria left the West team practice early after apparently injuring himself while making an outstanding diving catch. We are still waiting for clarification on the nature of his injury. Below is a list of some of the other notable players from today's practices.
Players that impressed
1. Matt Stankiewitch, C, Penn State (6024, 303 and 5.25): Stankiewitch had a nice day as he demonstrated the ability to play with solid base and leverage at the point of attack. Once he initiated contact with his man, he was able to lock on and sustain blocks during inside run drill and team passing drill. His ability to bend his knees and get his hands inside man's chest allowed him to hold ground against strong bull rushers.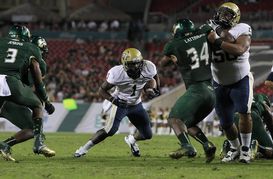 US PRESSWIREPittsburgh RB Ray Graham carries ball on inside run.
2. Ray Graham, RB, Pittsburgh (5093, 192 and 4.55): For a smaller back, Graham impressed today with his willingness to run between the tackles. He ran with good body lean and aggressiveness, which allowed him to drive through contact and pick up extra yards after contact. He also impressed with his vision and cutting, as he was able to make defenders miss with his explosiveness to the cutback lane.
3. Gerald Hodges, LB, Penn State (6011, 239 and 4.75): Hodges was extremely disruptive filling inside run gaps during team drills. He surprised us with his ability to stack and shed blockers at the point of attack, as he was able to literally throw much bigger blockers aside on more than one occasion. He also flashed impressive speed and quickness in pursuit, but did not look instinctual in coverage.
4. Cooper Taylor, SAF, Richmond (6042, 229 and 4.59): Taylor was clearly the top safety on the East squad today, as he looked instinctive versus the run, in coverage and displayed impressive closing speed. On the first play of team drills he cut off his receiver's out route and intercepted Collin Klein, and followed it up the very next play with a big hit over the middle causing the WR to drop the ball. He also flashed very good recovery speed throughout the day and was a pleasant surprise athletically considering his size.
5. West Squad Quarterbacks: All three QBs from the afternoon practice were more impressive than any of the East squad's trio. Former Western Michigan QB Alex Carder (6016, 220 and 4.90) showed very good footwork and impressed with his touch and accuracy on deep passes. Ex-Texas Tech QB Seth Doege (6003, 199, and 4.85) displayed a stronger arm than expected and was very accurate on short and intermediate passes. Arizona graduate QB Matt Scott (6016, 202 and 4.95) showed off a quick and compact release and was deadly accurate on quick-hitting pass routes.
Players that struggled:
1. Scott Vallone, DE, Rutgers (6016, 273 and 5.10): Vallone played DE this morning for the East squad (he played DT primarily at Rutgers) and clearly struggled making the transition. Blockers were able to get into his frame early and neutralize him at the line of scrimmage, as he lacked the hand usage and foot quickness needed to shed blocks. He showed limited burst off the snap and lacked the skill set needed to rush the passer effectively off the edge.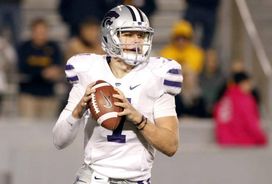 Kansas State QB Collin Klein prepares to throw pass.
2. Collin Klein, QB, Kansas State (6045, 218 and 4.77): We were extremely disappointed with Klein today as he struggled to throw with accuracy and zip throughout practice. He has a hitch in his release and the ball comes out of his hand like a shot-put, causing his passes to wobble in the air. He was late on a deep out throw on the first play of team drills, resulting in an interception.
3. Erik Highsmith, WR, North Carolina (6004, 190 and 4.60): Highsmith displayed smooth and fluid athleticism running routes, but he struggled to gain separation throughout practice because of his lack of explosiveness/burst out of cuts. It almost looked as if he wasn't running routes at full speed, as defensive backs were able to stay on his hip despite his ability to make precise cuts.
4. Terry Hawthorne, CB, Illinois (6000, 194 and 4.45): Despite looking like an NFL CB "on the hoof" and displaying smooth athleticism throughout practice, Hawthorne did not have a solid practice this afternoon. He struggled to break and close on passes and did not display the quick twitch explosiveness to close fast on passes. For a player with legitimate NFL starter talent he did not play up to that level today.
Email Russ at Russelllande@yahoo.com and Follow Russ on Twitter @RUSSLANDE