November 11, 2010 -
National Football Post
Moving on up
The NFP breaks down which senior prospects have helped themselves the most so far this season in regards to their overall draft status.
QB Greg McElroy: Alabama (6-2, 225)
He doesn't have an elite physical skill set, but the guy manages the game as well as any quarterback in the nation. He possesses great accuracy and ball placement in the short/intermediate pass game and is able to quickly decipher information in the midst of pressure. I would like to see him do a better job of getting rid of the football and not taking so many sacks. However, he's a bright kid with a good head on his shoulders and should be able to come in and be a solid number two early in his career. And with the right team could fight for playing time down the line.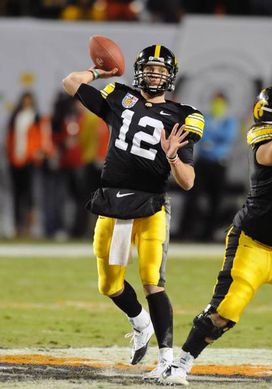 ICONStanzi has done a much better job taking care of the football this season.
QB Ricky Stanzi: Iowa (6-4, 230)
Stanzi is another quarterback who has really taken a step forward in 2010, cutting down on his turnovers, making better decisions from the pocket and more consistently finding secondary options. He possesses a good enough arm to make all the throws, can buy time with his feet and is a smart, highly competitive guy with a very good track record as a winner. He needs to continue to polish up his footwork, especially when trying to get the ball out on his back step from his drop. But, the talent is there for him to definitely make an NFL roster and develop from there.
RB Roy Helu: Nebraska (6-0, 220)
The guy has been a man on a mission this season, not only picking his way through traffic and grinding out tough yards inside. But, he's shown more of a second gear than I or just about anyone else gave him credit for in the open field, breaking off his fair share of long runs at the second level. Now, he's still not a home run threat by any stretch at the next level. However, he's a tough kid with a good feel inside, runs low and is shifty enough to side step a defender and create through contact. Looks like a prospect who can instantly come in and give an NFL offense good reps as a number two back.
WR Lester Jean: Florida Atlantic (6-3, 195)
Jean is my Marcus Easley of 2010. A guy who has a big, long frame, runs really well for his size and had his breakout campaign as a senior. He's on pace to go over 1,000 yards receiving, showcases some shiftiness after the catch, can get off press and quickly reaches top speed when asked to get behind defenders. He looks like a guy who will continue to improve his stock this postseason and is one of the better senior wideouts I have seen on the year.
OL Danny Watkins: Baylor (6-4, 310)
Watkins, a former hockey player from Canada who decided to take up football in 2007, is now anchoring the left side of the offensive line for one of the better offenses in the nation. He's a strong, smooth kid who does a nice job extending his arms into contact, maintaining balance and sticking to blocks through the play. However, the downfall on him is that come draft time the guy will be 26 years old. Nevertheless, he has put himself in position to come into an NFL training camp and fight for playing time early in his NFL career. I see him as more of a guard prospect, but he's a mature kid with some upside to his game still — despite his age — and I expect him to garner some interest within the top-100 picks.
DE Jabaal Sheard: Pittsburgh (6-3, 255)
Sheard had a rough summer, getting suspended indefinitely after being charged with assault in July. However, he has bounced back in a big way during the regular season, recording nine sacks through eight games all while seeing the majority of the attention in recent weeks in the absence of fellow DE Greg Romeus. Sheard is a savvy pass rusher who can win with power, has a good enough first step to pressure the edge and uses his hands and suddenness well to slip blocks. He has one of the better pass rushing arsenals of any DE in the country and has proved he can still be really productive even when he is the one guy everyone is trying to stop on the defensive line.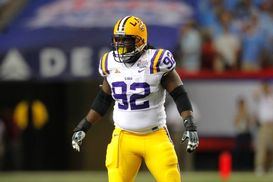 ICONNevis is a bear to block inside.
DT Drake Nevis: LSU (6-1, 285)
If you want to see a defensive tackle who plays the game with a mean streak, works till the whistle and is just an absolute bear to block for four quarters, look no further than Drake Nevis. Despite his size the guy has a really strong lower half, plays with leverage and possesses one of the best first steps of any defensive lineman in the country. He is a bit undersized, but as we have discussed before at the NFP, there have been plenty of 6-1 defensive linemen to make their mark in the NFL, as Nevis looks to be the next in line. In my opinion he's been the most disruptive defensive lineman week in and week out in all of college football during the 2010 season.
OLB Wayne Daniels: TCU (6-2, 250)
Daniels has stepped up in a big way this season and taken over the spot as the team's most productive pass rusher for former first-round draft pick Jerry Hughes this season. Daniels isn't the same type of explosive athlete, but he has a good enough first step, drops his pad level well when trying to fight through contact and displays impressive savvy as a pass rusher, cleanly changing speeds and directions in order to slip blocks. Now, he is undersized and lacks ideal girth to be an every down 4-3 DE, but he does have some upside from a two-point stance and should be able to make his mark as a 3-4 pass rushing linebacker at the next level.
CB Rashad Carmichael: Virginia Tech (5-10, 182)
He isn't the biggest or strongest of corners in this year's draft, but Carmichael has quietly had a very strong season. He's a bit limited at the next level as more of a zone/off cover man, as he lacks the size/strength to consistently get up in the face and bump receivers off the line. However, he has shown very good awareness and ball skills all season long when asked to click and close on plays in front of him and when you combine his solid senior season tape with the very good times he's going to run during the postseason, Carmichael will be sure to see a boost in the stock come draft time.
NFL draft/college football questions? Get them answered at Wes.Bunting@nationalfootballpost.com
Follow me on Twitter: @WesBunting