April 10, 2012 -
National Football Post
Mr. Safe Pick
A look at which prospects seem like the safest bets to come in, contribute and mature into sound long-term starters for whatever NFL team drafts them after round one.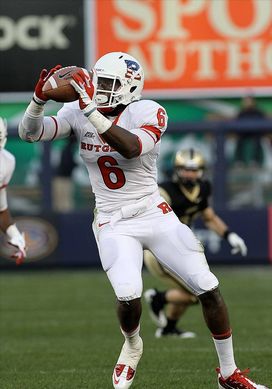 ICONSanu looks like a safe player either inside or out.
RB Doug Martin: Boise State (5-9, 215)
Martin isn't a dynamic size/speed back, but there aren't many negatives to his game as a back. He plays fast, runs low, is natural through the line of scrimmage and has a skill set somewhat similar to former Alabama RB Mark Ingram last year. He might fall a bit because he doesn't run overly well, but he has the skill set to start in the league.

WR Mohamed Sanu: Rutgers (6-2, 215)
Physically reminds me some of Hakeem Nicks. Isn't as NFL ready, but can go get the football, breakdown and separate on all levels of the field. Looks like a future NFL starter who might need some time, but the talent is most definitely there.

TE Dwayne Allen: Clemson (6-4, 255)
Is a solid, strong athlete with good hands and body control when asked to go get the football. Lacks ideal balance/leverage into contact as a blocker and would like to see him be more sudden in tighter areas with defenders who want to be physical. However, he's an NFL talent who can be used in a number of ways on an NFL offense.

OT Brandon Mosley: Auburn (6-6, 305)
A tough kid who plays hard, likes to finish and understands angles in the pass game. Has some upside down the line coming from a JUCO program in 2010, but as of now looks like a roster guy in year one who could fight for playing time down the line. Reminds me some of former UVA OT Will Barker.

OG Kevin Zeitler: Wisconsin (6-4, 315)
A tough, strong in-line guy who you can run behind and also has some coordination on the move. Not as effective in the pass game, but can mature into an average NFL pass blocker if he learns to get off the ball more consistently. Looks like a gritty type starter early on in his NFL career to me.

DE Cam Johnson: Virginia (6-4, 270)
A solid college defensive end who has never been much of a sack artist but there are some tools there. Showcases some fluidity in his drop and in coverage and has the ability to mature into a more sudden pass rusher. Will get looks in both a 34 and 43 front.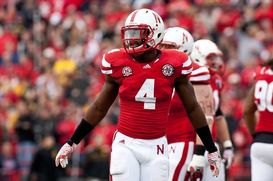 ICONAll David does is find the football.
OLB Lavonte David: Nebraska (6-1, 225)
He's undersized, but is instinctive. Might be limited to more of a cover two type scheme only, but looks like a starting caliber weak side guy to me early in his NFL career.

CB Casey Hayward: Vanderbilt (5-11, 188)
A smart, productive corner who can consistently make plays on the football. He's not a guy who will consistently hold up in man on the outside in the NFL. However, he's shown the ability to routinely get early jumps on the football and come down with the catch. Looks like one of the safer prospects in the draft as a cover two type guy.

SS Harrison Smith: Notre Dame (6-2, 214)
Isn't a guy you want to trust to run with receivers down the field. However, because of his solid natural range and instincts, I can see him getting over the top and making plays in a center field type role as an NFL strong safety.