April 14, 2011 -
National Football Post
Mr. safe pick
A look at which prospects seem like the safest bets to come in, contribute and mature into sound long-term starters for whatever NFL team drafts them after round one.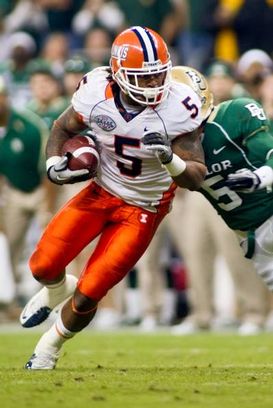 ICONLeshoure possesses a starting caliber skill set.
RB Mikel Leshoure: Illinois
He's not only the top size/speed option among the top three running backs in this year's class, but he's also very capable in the receiving game. Leshoure displays good balance/vision as a runner inside, knows how to break tackles and creates well through contact. He isn't a legit home run hitter, but is a seasoned Big Ten back who has successfully rushed against 8/9 man fronts throughout his college career and knows how to carry the load and wear down an opposing defense.
WR Randall Cobb: Kentucky
I love former high school quarterbacks who make the move to wideout in college because they just have a real savvy about their game. Cobb's a gifted short-area athlete who ran better at the NFL Combine than many expected — myself included — and knows how to create initial separation for himself. He's an ideal slot receiver at the next level who can create mismatches inside, consistently get open vs. a two-way go and pick up yards after the catch.
OL Clint Boling: Georgia
Boling is one prospect who has really been growing on me throughout the NFL draft process. He's done a better job anchoring with more consistency this year, can slide his feet and mirror through contact and offers a lot of versatility along an offensive line. He looks more comfortable playing on the left side and for now I'll call him a left guard prospect. However, he can plug holes at either guard or tackle spots if need be and he just strikes me as a "do it all" type linemen who you can win with.
OC Stefen Wisniewski: Penn State
Again, there isn't much to get excited about when talking interior offensive linemen. However, when I watched Wisniewski on tape, I thought he was the most technically sound college offensive lineman I have ever seen on tape. He isn't the biggest, strongest or most athletic. But, he plays with good leverage, consistently shoots his hands quickly to gain inside position and is tough to disengage from through contact in both the run and pass game. A starting-caliber blocker either at guard or center early in his NFL career.
DT Drake Nevis: LSU
Nevis' lack of ideal size is the one reason why he would fall on draft day because he simply isn't a fit for every scheme. However, if you put this guy into the right situation as a one-gap three technique, there is no doubt in my mind he'll find a way to be successful in the NFL. He's got the best first step of any interior defensive lineman in the draft, exhibits a great motor and plays the game nasty and with bad intentions. There's a real fire to his game, which is obvious on tape, and I can't see how this guy won't be a successful penetrating type tackle at the next level if given a chance.
LB Mason Foster: Washington
He doesn't have elite size or speed, but all the guy does is make plays on the football. When evaluating his game this year I can't say he does anything at an elite NFL level other than tackle the football. However, he's good enough in all areas of the game to consistently put himself around the action and make plays. Plus, he adds the versatility to play just about any linebacker spot in the NFL outside of a 34 rush guy and seems like the one second-round linebacker who will be ready to come in and play at a high level early in his NFL career.
CB Rashad Carmichael: Virginia Tech
It might sound clich