October 26, 2011 -
Barry Dorey
My top five junior prospects
A mid-season look at the nation's top five junior prospects in my eyes…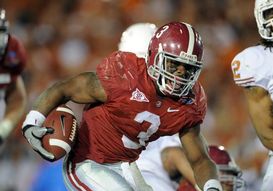 ICOnRichardson has the talent to be an instant impact guy.
1. QB Andrew Luck: Stanford (6-4, 235)
There isn't much the guy can't do. He deciphers information extremely well, is coordinated in the pocket, accurate delivering the football and is a much better athlete than given credit for when asked to create with his legs. Overall, he's about as safe a quarterback prospect that there has been in the past ten years.
2. RB Trent Richardson: Alabama (5-11, 220)
A physically imposing back who runs hard and possesses a rare blend of power and speed. Doesn't have the same type of feel inside that former Tide standout RB Mark Ingram had. But he'll likely get drafted higher because he's a better size/speed athlete and has the talent to be an impact caliber starter from day one.
3. OT Matt Kalil: Southern Cal (6-6, 300)
Displays an impressive combination of natural athleticism, flexibility and technique as a pass blocker. And he does a really nice job keeping his base down through contact, which allows him to play stronger than his frame would indicate. Looks like an NFL caliber pass blocker from day one.
4. CB Morris Claiborne: LSU (6-0, 185)
Possesses an elite athletic skill set with the fluidity to turn and run, maintain balance and get up to speed quickly. However, it's his improvement as a technician from last year to this year that has allowed him to play faster in tighter areas, create more of a closing burst and become in my view the draft's top cornerback prospect.
5. OG David DeCastro: Stanford (6-5, 312)
His position might not allow him to warrant a top-five pick. However, he's about as safe as any prospect in the draft in my view. Plus, he's a gifted athlete with elite range/body control when asked to pull and can consistently win inside vs. the pass as well. Overall, looks like a potential All-Pro caliber guard in the NFL for a long time.
Follow me on twitter: @WesBunting