October 05, 2011 -
Barry Dorey
My top five quarterback prospects
An early season look at the nation's top five quarterback prospects in my eyes…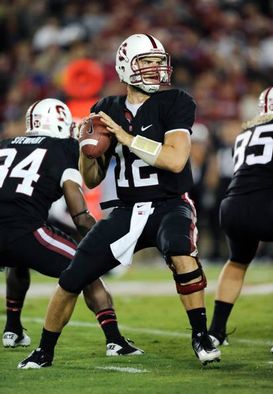 ICONLuck is the draft's top signal caller
1. Andrew Luck: Stanford (6-4, 235)
There isn't much the guy can't do. He deciphers information extremely well, is coordinated in the pocket, accurate delivering the football and is a much better athlete than given credit for when asked to create with his legs. Overall, he's about as safe a quarterback prospect that there has been in the past ten years.
2. Ryan Tannehill: Texas A&M (6-4, 222)
I know he's struggled in the second half of games the past two weeks. However, Tannehill does things at the position that is really rare for a guy with only ten career starts. He's a natural football player with "plus" athleticism/escapability, he can make all the throws and his upside long term gives him the edge as the number two QB prospect in my mind.
3. Matt Barkley: USC (6-2, 220)
He's not the most physically gifted of kids, but Barkley is a natural leader who displays a real professionalism about his game and has matured each of his first three years at USC. This season he's doing a much better job finding secondary targets instantly in the face of pressure and getting rid of the football quickly/accurately on all levels of the field. He's as NFL ready as any prospect on this list outside of Luck.
4. Robert Griffin III: Baylor (6-2, 220)
Griffin is the real wildcard of the class. A lot will be determined on his draft stock over the next couple weeks vs. the jump in competition. But, as of now I see an elite athlete at the position who has exhibited a real development as a pocket passer. He's got a good feel for the game, has made some big time NFL stick throws this year (skinny post & deep comeback) and tosses one of the prettier bucket throws in the country. Overall, there is simply too much talent, upside and production at time stage to think he's anything but a potential franchise guy in my mind.
5. Landry Jones: Oklahoma
I'm not a huge fan of Jones and honestly don't see too much of a difference between his game and say Oklahoma State's Brandon Weeden. However, Jones is the much younger prospect with more overall upside and has shown the ability to move the chains at a high level. When the pocket is clean there isn't a throw Jones can't make with "plus" touch and ball placement. But, learning to be more efficient in the face of pressure will be his biggest obstacle at the next level.