October 19, 2011 -
Barry Dorey
My top five running back prospects
A mid-season look at the nation's top five running back prospects in my eyes…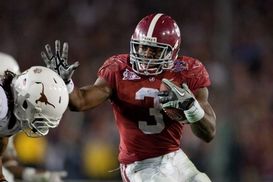 ICONRichardson is a monster to bring down in the open field.
1. Trent Richardson: Alabama (5-11, 220)
A physically imposing back who runs hard and possesses a rare blend of power and speed. Doesn't have the same type of feel inside that former Tide standout RB Mark Ingram had. But he'll likely get drafted higher because he's a better size/speed athlete and has the talent to be an impact caliber starter early on.
2. Lamar Miller: Miami (5-11, 212)
He's a more dynamic back than any other senior runner I've seen this year and outside of junior RB Trent Richardson, I don't know if there's a draft eligible back that possesses a similar type skill set. He presses the line of scrimmage quickly, exhibits impressive foot quickness and fluidity in the hips when forced to jump cut laterally. And possesses "plus" speed in the open field. What more can you ask for from a top-tier NFL prospect?
3. Doug Martin: Boise State (5-9, 220)
Martin looks like a coke machine the way he's put together as he's thick through the lower half and mid-section, and there's really no place to wrap-up on him. He runs low while keeping his pad level down and possesses solid straight-line speed. But, it's his ability to sharply change directions, maintain balance and accelerate that makes him such an intriguing running back prospect. Plus, he plays fast/quick in tight quarters and can consistently make defenders miss. Looks like a future NFL starter.
4. David Wilson: Virginia Tech (5-10, 205)
Plays bigger and runs harder than his frame would indicate. Is an explosive kid with an impressive initial burst, keeps his pad level down through contact and is a violent cut back runner. An ideal fit as a starting zone guy at the next level.
5. Chris Polk: Washington (5-11, 222)
A meat and potatoes type back. Possesses an average first step pressing the line of scrimmage and only average breakaway speed. However, he's got a good feel at the line, displays enough short area quickness to make a man miss along with the lower body strength to routinely run through tackles. Is at his best creating yards after contact as he lowers his pad level well when finishing runs and looks capable of keeping an NFL team consistently ahead of the chains.