January 11, 2011 -
National Football Post
National Championship Prospect Performance Breakdowns
A look at how some of the top prospects performed in last night's National Championship game.
Auburn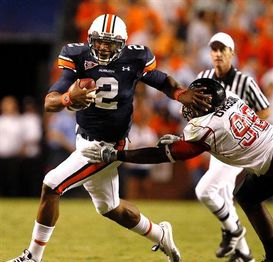 Newton struggled with pressure when forced to throw.
QB Cam Newton (6-6, 250)
You could tell it's been over 30 days since Newton last saw a live defense gunning for him because he looked rusty throughout. He wasn't nearly as sharp in the pass game as he was coming down the stretch of the season and missed some big bucket throws vertically down the field you typically see the guy make. However, what stood out to me the most about his game was how fidgety he got in the pocket at times in the face of pressure. Early on the eye level went down very quickly looking to take off to run. However, there was simply nowhere to go with a swarming Oregon defense. So as the game went on he relied more so on his arm and tried to find more blitz beaters underneath. However, his balance, base and overall footwork all night was very sketchy, short arming throws, falling away from receivers when he had additional time and struggling to really get into a rhythm.
He also looked really confused at times trying to find the "mike" in order to set his protection, especially when Oregon stood all their defenders up, opting later in the game to simply take off rather than try to work his progressions and find a secondary option. And finally, his overall timing and ability to get the ball out quickly and recognize coverages off his initial read was still a soft spot in his game all evening, which is something we have seen for the most part during the year and something that should improve with more development/playing time as he goes forward.
DT Nick Fairley (6-4, 298)
What more can you say about the guy? He was pretty much unblockable all evening inside, finishing the game with three tackles for loss, one sack and was able to simply control the line of scrimmage pretty much all game. He's really an explosive pass rusher for his size, using his long arms and power to work the club and arm over the slip blocks and make his way into the backfield. His initial burst once he gains a step is really impressive as well as closing on the ball carrier/QB very quickly and finishing on the play.
He also played the run game with integrity for most of the evening, displaying the power/balance to anchor, the length and hand violence to shed and did a nice job finding the football up and down the line. I still think the guy has a little laziness to his game and although the physical comparisons to Lions first-round pick Ndamukong Suh are most certainly there, I don't think he has quite the same amount of drive as Suh possesses. Nevertheless, he was once again dominant on the biggest stage and looks ready to be a very lofty pick come April.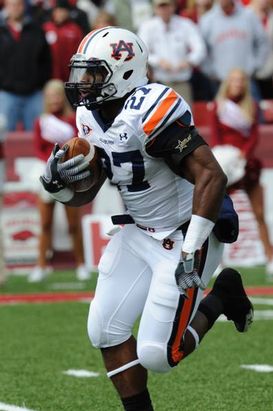 ICONFannin is at his best on 3rd down.
RB Mario Fannin (5-11, 228)
Fannin didn't have a big stat line or even a major impact on the game. However, he's a seasoned vet who knows his role as a 3rd down back and does it very well. And despite the dropped pass last night, he really does do a nice job in blitz pick-up, consistently stone-walling blitzing backers and moving his feet through contact. He's also very comfortable in the pass game, finding soft spots underneath, sitting down and getting north/south quickly. He doesn't warrant much more than a late-round pick, but he's a guy who can make a roster at the next level because of his ability to block and catch the football.
Oregon
ILB Casey Matthews (6-1, 238)
I'll give Matthews some credit as he did make a pair of big plays vs. the Auburn offense, coming up with the strip on Newton late in the game and knocking away a key pass on third down. However, after watching him countless time I still don't think he's a real consistent tackler — missing on numerous occasions last evening — and I don't think he's real physical when asked to take on blocks inside, I don't think he consistently takes the best of angles toward the football and I don't think he will be able to hold up in the pass game at the next level. He's a high-effort guy with the overachiever label in my view who because of his work ethic and bloodlines will get a chance and could make a roster, but I can't see the guy as a potential starter by any stretch in the NFL.
WR Jeff Maehl (6-0, 185)
He might not look the part, but all the guy does is make plays. Maehl possesses sneaky speed vertically down the field, tracks the ball well and knows how to adjust and come up with the tough grab. Plus, he displays some good short-area quickness off the line, is a smooth route runner and isn't afraid to pluck the ball over the middle and take the hit after the catch. He's also got some savvy to his game finding soft spots underneath, working his way open and always seems to be the guy who makes the key play in the pass game for the Ducks. Again, he's not going to go high, but this is the kind of player you want filling out your receiving corps, working from the slot and moving the chains on third down. There's a place in the league for this kid.
Follow me on twitter: @WesBunting