December 23, 2011 -
Barry Dorey
Nevada has a pair of prospects worth watching Saturday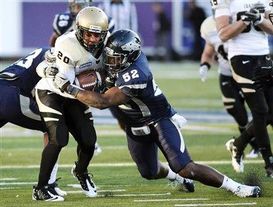 ICONJohnson is a solid tackler.
ILB James-Michael Johnson (6-2, 240)
A shorter, compact inside linebacker prospect with a thickly put together frame. Generates a natural snap into contact. When taking on blocks inside. Creates natural leverage for himself, is an explosive kid who can deliver a thump at the point of attack and to his credit does a nice job extending his arms and keeping himself clean. Isn't real long armed and has a tough time stacking and shedding consistently in the hole. Can stonewall defenders, but isn't a consistent shed guy once engaged. Is quick to decipher information though, keys off blocks well, is always getting early jumps on the football and exhibits an explosive element to his game when asked to close. Breaks down well in space, takes good angles to the ball carrier and is quickly able to snap his hips into contact and create collisions. Is a guy who can create turnovers at the point in the run game.
Showcases some savvy as a blitzer, finds rush lanes quickly and uses his shimmy/arm over in order to side step blocks. Possesses a good first step and closing speed when chasing the ball carrier and knows how to keep himself clean. Uses his hands well when picking his way through trash inside with the first step to accelerate away from blocks off his frame.
Has a tendency to get a bit upright in coverage which takes away from his initial balance. Needs a step or two to collect himself before he's able to get back up to speed. Will give up initial separation in man. However, exhibits decent fluidity in the hips when asked to re-direct, and in zone keeps his feet under him better and displays plus initial burst and closing speed toward the football. Ball skills are only average, but he's a guy who can cover some ground in space. Just needs to improve pad level when changing directions.
Impression: Is a good athlete who can run, close on the football and play with power in the run game. Needs to play a bit lower in coverage, but overall does everything at a pretty solid NFL level. Is a guy who can win a starting job at the next level early on.
Follow me on twitter: @WesBunting
Click to page two for DL Brett Roy