May 02, 2011 -
National Football Post
NFC Draft Grades
We all know that an NFL draft can't be properly evaluated until 3-4 years from now. However, it's still fun to hand out draft grades breaking down each team and we start today with the NFC.
NFC East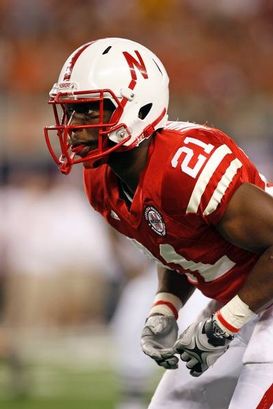 ICONAmukamara has a good value in round one.
New York Giants
Value is the key to the Giants draft grade especially with their first-round pick where they landed CB Prince Amukamara out of Nebraska, who was projected by some as a top-10 pick. Third-round pick WR Jerrel Jernigan has the ability to be a mismatch nightmare both inside and out, and if they can keep DT Marvin Austin motivated, he's a potential steal in round two.
Grade: B+
Dallas Cowboys
The draft started and ended well for the Cowboys, who added a potential blue-chip tackle in Tyron Smith in round one as well as a talented CB in Josh Thomas and their potential starting lead blocker Shaun Chapas later in the draft. However, I don't think second-round LB Bruce Carter is an ideal fit as an ILB in their 34 defense and RB DeMarco Murray not only is a luxury pick, but in my mind Dallas already has better backs on the roster who can do the same type of things Murray is known for.
Grade: C
Washington Redskins
I like what Washington did from a draft strategy standpoint, trading back, acquiring value and filling the many holes on the roster. I'm not a huge Ryan Kerrigan or Jarvis Jenkins fan, but both have the ability to mature into solid 3-4 starters on the Washington defense. I do like the pair of wideouts they selected in Niles Paul and Leonard Hankerson and think both can play roles on the offense this year.
Grade: B-
Philadelphia Eagles
OL Danny Watkins looks like a future Pro Bowl-caliber guard at the next level and CB Curtis Marsh has as much upside at corner as any prospect in the draft. The Eagles also added some nice depth at running back in Dion Lewis and at linebacker with Brian Rolle, Greg Lloyd Jr. and Casey Matthews. However, I do think that it will be Rolle that ends up being the best of that linebacking bunch in Philly.
Grade: B+
NFC North
Detroit Lions
In my mind the draft couldn't have gone any better for the Lions. Getting a stud like DT Nick Fairley to pair with Ndamukong Suh inside could ultimately be downright devastating for opposing offenses in the NFC North. They also added two potential playmakers on offense in RB Mikel Leshoure and WR Titus Young all while adding a pair of high upside prospects late.
Grade: A++
Green Bay Packers
When you're able to get a starting caliber left tackle with the last pick in round one, all in all it's a good draft. OT Derek Sherrod has the ability to anchor the blindside and in my mind looks like a very good starting tackle at the next level. I'm still not big on RB Alex Green and thought he was a bit of a reach. However, the Packers got great value in TE D.J. Williams, DL Lawrence Guy and OLB Ricky Elmore and once again it looks like a very good draft top to bottom for the Packers.
Grade: A-
Minnesota Vikings
QB Christian Ponder might have been a reach at 12. However, he's my top-rated quarterback who I ultimately think will mature into a good starting QB in the NFL. TE Kyle Rudolph is a great value in round two and should develop into one of the league's best at the position and late round OL DeMarcus Love has the talent to play either tackle or guard spots in the NFL — just needs some time to get comfortable with a position. The Vikings also got very good value with DL Christian Ballard and CB Brandon Burton.
Grade: A-
Chicago Bears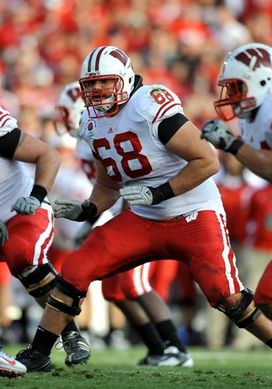 ICONCarimi adds some thump to the Bears O-line.
Overall, a solid draft for the Bears. Both OT Gabe Carimi and DT Stephen Paea fit exactly what they want to do up front on either side of the football and OLB J.T. Thomas is an ideal run and hit linebacker who can quickly mature into a very good special teams player as well. However, I still think safety Chris Conte is overrated. At nearly 6-3 he has a tendency to get doubled over at the waist trying to sit into his drop and struggles to quickly change directions and reach top-end speed in the deep half.
Grade: B+
NFC South
Carolina Panthers
Fourth-round pick CB Brandon Hogan was my favorite selection of the bunch. He comes with some baggage, but when healthy he's a versatile defensive back who can play all over the secondary. Defensive lineman Sione Fua and Terrell McClain are solid rotational guys at the next level in my mind. However, this draft will come down to one player, and that's QB Cam Newton, who is the definition of a "boom" or "bust" pick.
Grade: C
Tampa Bay Buccaneers
Adding a pair of defensive ends with their first two picks — Adrian Clayborn and Da'Quan Bowers — on paper gives them one of the best young defensive lines in the NFL. LB Mason Foster and TE Luke Stocker are both very solid football players who should mature into starters in the league and I like the potential depth they also added later in the draft as well.
Grade: A-
Atlanta Falcons
From the limited amount of players they brought in, I do think the overall talent level is good. WR Julio Jones can be a bonafide blue-chip receiver at the next level and is an ideal fit with what they want to do on offense. Also, RB Jacquizz Rodgers possesses elite lateral quickness and should quickly become a good change of pace option in both the run and pass game. Nevertheless, LB Akeem Dent still strikes me as nothing more than a solid two-down player who can contribute on special teams.
Grade: B
New Orleans Saints
The Saints brought in a draft class littered with talent, production and a ton of upside in the mid/late rounds. DE Cameron Jordan and RB Mark Ingram are about as solid of first round picks as you can get. However, I also love the talent in LB Martez Wilson and DE Greg Romeus, who both have the ability to mature into very good starters in the league if they can stay healthy.
Grade: A+
NFC West
St. Louis Rams
First-round pick Robert Quinn could end up being the best pass rusher to come out of the entire draft class. He's explosive, can dip his shoulder around the edge and has a ton of upside — a great value in round one. After that, though, the draft is kind of "blah." Wideouts Austin Pettis and Greg Salas add some depth to the receiving corps, but both look like reserves who don't have the athleticism to separate on the outside. Late-round pick defensive back Jermale Hines should be able to cont ribute on special teams early, but I don't see him as much more than that.
Grade: B-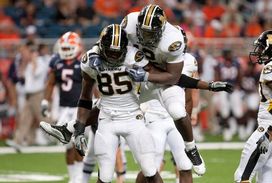 ICONSmith has a lot of upside, but might need some time.
San Francisco 49ers
I really do like DE Aldon Smith as a prospect, but I see him more as a down 4-3 guy than standing up as a rush backer. He's got some natural movement skills, but there is going to be some transition time for him as he gets use to standing up. Speaking of transitions, QB Colin Kaepernick is going to need time to develop as well. He's got all the tools, but in my mind is going to need to be brought along very slowly. However, I do love the Kendall Hunter pick and think he can be a solid 3rd down option from day one.
Grade: B-
Seattle Seahawks
James Carpenter is a solid offensive lineman with RT/G versatility; I just don't see how he fits into round one. I like LB K.J Wright and think he can play all over the Seahawks linebacking corps. However, outside of that I have questions about CB Richard Sherman holding up on the outside, WR Kris Durham seemed like a reach in the fourth round and even OG John Moffitt is a bit limited as an athlete and I can see him struggling in pass protection.
Grade: C-
Arizona Cardinals
Getting one of the premier talents in the entire draft is a great way to start, as the Cardinals landed LSU CB Patrick Peterson to potentially form one of the best young cornerback duos in the league with Dominique Rodgers-Cromartie. RB Ryan Williams will give the offense some big play ability both inside and out of the backfield, and I like the upside of DL David Carter. TE Rob Housler still strikes me as an overrated tight end prospect because of his straight-line speed, but later round picks FB Anthony Sherman and LB Quan Sturdivant should both make the roster and contribute immediately
Grade: B
Follow me on twitter: @WesBunting