September 18, 2012 -
National Football Post
NFC North – Practice Squad Breakdown
With week two of the NFL season "in the rear view mirror" there continues to be a lot of roster juggling. As teams can now sign vested veterans without having to guarantee the contract (Vested veterans can claim termination pay one time in their career if they are on a team's opening day roster), you can expect to see a number of players cut from active rosters and added to practice squads this week. So today we take a look at five practice squad players in the NFC North that we believe have the tools to develop.
1. James Brown OT Troy 6034 306 5.23 Chicago Bears Practice Squad
Despite a lot of starting experience at Troy, Brown is still a much better athlete than football player. While I have no doubt that he has the physical talent to start at offensive tackle in the NFL, he will need to greatly improve his technique and awareness to do so. For a player who has shown the raw strength to torque defensive linemen off their feet, he has a bad habit of blocking with a narrow base and not using hands aggressive or with proper placement, all of which lead to him being beaten too often by pass rushers. In addition, he is a better pass blocker than run blocker right now, so he is a long term developmental prospect with a chance to develop if he greatly improves his technique.
2. Byron (B.J.) Coleman QB Tenn-Chattanooga 6030 233 4.90 G.B. Packers Practice Sqd
A dominant small school quarterback, Coleman is an excellent player for the Packers to try and develop. He has the top end arm strength to make every NFL throw with excellent velocity, but he has a tendency to rely too much on it. Instead of using touch to fit passes into tight spots, Coleman has a bad habit of throwing most passes as hard as he can and will need to improve greatly on touch throws. Not uncommon for a small school quarterback, Coleman's footwork is sloppy as he does not get front foot pointed towards receiver consistently and will throw off back foot too often when pocket gets squeezed. After transferring from Tennessee to Tennessee-Chattanooga when he was not receiving playing time, how long he is willing to toil on a practice squad is also something to be concerned about.
3. Andrew Datko OT Florida State 6060 315 5.26 G.B. Packers Practice Squad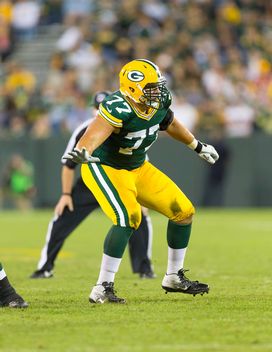 US PRESSWIREOT Andrew Datko slides in pass protection.

After a great junior season Datko looked like a future high draft pick, but then he blew out his shoulder and missed the bulk of the 2011 season. His feet and athleticism are starting left tackle quality, but he is still building back to his pre-injury playing strength. For him to develop he will need to prove his shoulder can handle the wear and tear of blocking NFL defensive ends, must improve his playing strength and has to be more consistent with his overall technique. While many practice squad players have potential, few develop into more than backups, but if I were to bet on one this year it would be Datko as he has starting left tackle talent to go with tremendous character and intangibles.
4. Patrick Edwards WR Houston 5092 172 4.45 Detroit Lions Practice Squad
In today's passing NFL, explosive receivers with big play ability have a role, which gives Edwards a chance to be more than a practice squad receiver. His ability to get off the ball quickly vs. air, get out of his cuts with a burst to get some separation and make tacklers miss in the open field makes him a dangerous player with the ball in his hands. Unfortunately, during training camp his slight frame hindered his ability to fight through jam at the line and allowed cornerbacks to re-route him too easily. In addition and more concerning were his struggles adjusting route based on defense, which led to some dropped passes. He no doubt has talent to play in NFL, but needs to improve playing strength and get better reading defense to adjust route accordingly if he is going to become a contributing receiver in the NFL.
5. Tori Gurley WR South Carolina 6040 232 4.55 Minnesota Vikings Practice Squad
Having received some national attention as a potential "sleeper" to make the Packers roster this year, Gurley is one of the more well-known practice squad players in the league. No one questions that he has the great size, strength and smooth athleticism to be a productive big receiver in the NFL. However, he has not proven that he has the quickness to consistently get separation vs. tight coverage and the speed to make big plays down the field. While I believe Gurley has many of the traits to make it as a backup receiver, he is going to have to prove he can contribute as a coverage man on special teams to stick on a team as a backup receiver.
Email Russ at Russelllande@yahoo.com and follow him on Twitter @RUSSLANDE