September 25, 2012 -
National Football Post
NFC South – Practice Squad Breakdown
With three weeks of the NFL season "in the books" we are starting to see some excellent young players make an impact. However, as the season goes on and injuries take their toll teams will need to find quality replacements. In order for teams to maintain continuity they will often promote players from their practice squad who have been practicing in their scheme/system so the learning curve is minimal. So today we take a look at five practice squad players in the NFC South that we believe have the tools to develop.

1. Drake Dunsmore TE Northwestern 6021 241 4.69 Tampa Bay Buccaneers Practice Squad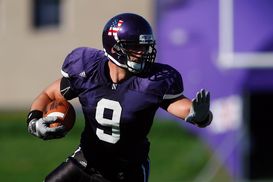 US PRESSWIREDrake Dunsmore runs with ball after catch.
Catching 143 passes at Northwestern was not enough to get Dunsmore drafted early, but the Buccaneers made a smart move by grabbing him in the seventh round. As a player who does not fit a traditional role as an in-line tight end or full-time fullback, Dunsmore needs to carve out a role and excel on special teams in order to have a long NFL career. In today's pass first NFL a player with Dunsmore's football smarts, ability to get open and excellent hands have a role. If Dunsmore can improve his quickness out of cuts to get separation vs. NFL coverage and ideally add some bulk to his frame (He looks thinner "on the hoof" than his measured weight), he could fill a role as a backup tight end / h-back who contributes catching passes out of different alignments.
2. Dale Moss WR South Dakota State 6030 213 4.41 Tampa Bay Buccaneers Practice Squad Despite only playing one year of college football after a good career playing basketball for South Dakota State, Moss put himself on the NFL's radar when he "blew up" his pro day running in the low 4.4's, vertical jumping over 40 inches and catching the ball very well. From evaluating South Dakota State film, Moss was clearly a gifted athlete who was very raw in the technical aspects of playing receiver. He must improve his initial "get off," must run sharper, more precise routes and become consistent running through contact to make plays after the catch. While there are many bigger names on practice squads around the league, Moss likely is the one with the most upside and potential as he has number one receiver physical tools.
3. Jerico Nelson DB Arkansas 5090 200 4.65 New Orleans Saints Practice Squad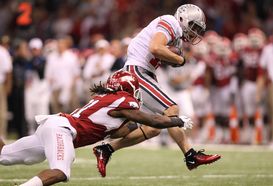 US PRESSWIREJerico Nelson makes tackle against Ohio State.
Unlikely to ever be more than a backup safety/cornerback, Nelson has to potential to become one of the biggest long term contributors of all of this year's practice squad players because of his special teams play. A "tweener" who lacks the ideal size of a safety and the speed to stay with fast receivers at cornerback, Nelson made more impact plays his final season at Arkansas than almost any other defensive back in the SEC. Despite lacking great timed speed, Nelson consistently shows the ability to get down the field fast from a "gunner" alignment and makes tackles on the punt coverage team. I am confident that Nelson will bulk up to 210/215 pounds during this season on the practice squad and in 2013 will be a backup safety/cornerback who is one of the best special teams players on his team.
4. Micanor Regis DT Miami 6025 309 5.21 Atlanta Falcons Practice Squad After getting by primarily on his athleticism at Miami, Regis needs to improve his technique to produce in the NFL. He relies on his quickness and agility to defeat/avoid blocks and has the speed to chase down running plays along the line. While raw as a pass rusher, when Regis plays with leverage and uses his hands aggressively he has shown the ability to defeat pass blocks and pressures the quarterback. However, the issue is that Regis tends to play upright and high against blockers and does not use his hands consistently to take on and stay free from blocks, which leads to him being tied up and eliminated from the play too often. Regis is an ideal developmental prospect because with improvement in technique he has the physical talent to potentially become a starting defensive tackle in the NFL.
5. Armond Smith RB/WR Union (Kentucky) 5090 190 4.40 Carolina Panthers Practice Squad A dominant senior season at Union College helped Smith get the NFL's attention after having shuttled between running back and defensive back as a junior. While he lacks the bulk/strength to consistently run through arm/grab tackles to gain yards after contact, Smith's dynamic explosiveness and open field running ability give him a chance to develop. An extremely smart young man with outstanding intangibles, Smith is willing to be a mainstay on special teams in order to carve out a role as a backup running back. If Smith can improve his playing strength in order to run through contact more consistently and improve his durability then he could shine as a third down back or slot receiver.
Email Russ at Russelllande@yahoo.com and Folllow him on Twitter @RUSSLANDE