October 09, 2012 -
National Football Post
NFC West Practice Squad Breakdown – Part 2
When NFL teams lose a starting player to injury, they turn to the backup to fill that role and hope that there is not a significant drop-off in the level of play. However, once the roster shuffling begins it often means that those teams have to promote a player or players from their practice squad to replace the backup who is now a starter. So this week we look at the second group of five of the ten total practice squad players in the NFL West that we believe have the tools to develop into contributors on the 53 man roster. To see the first group of five players from the NFC West just check last Tuesday's article on practice squad players. On measureables listed, they are all verified (As in taken by someone in the NFL) unless they have an "E" next to them, which stands for estimated.
1. Matthew Masifilo DT Stanford 6030 E 280 E 4.95 E San Francisco 49ers Practice Squad
Coach Harbaugh knows more than any other NFL coach what Masifilo brings to the table having coached him at Stanford and I believe he fits the 49ers defensive scheme ideally. A long armed defensive lineman with the flexibility to sink hips to play with base and the strength to hold ground vs. run blocks, Masifilo can fill the role of defensive end in the 49ers 34 scheme. With better foot quickness and playing speed than expected, he is able to chase down ball carriers along the line well. He is never going to be an impact pass rusher as he lacks explosiveness off the ball and the quick twitch athleticism to defeat pass blocks with fast change of direction pass rush moves. He reminds me of former longtime Chargers defensive end Jacques Cesaire who carved out a good career as a versatile and competitive backup.
2. Zack Nash OLB Sacramento State 6023 252 4.65 E Arizona Cardinals Practice Squad
After playing defensive line at Sacramento State, Nash is a conversion project who showed me enough athleticism playing linebacker at the Players All Star Classic All Star Game to warrant keeping on the practice squad for a season. Despite playing with "a hand on the ground" in a three point stance the majority of his college career, I was impressed with Nash's instincts and awareness when playing off the ball during the week of practice at the Players All Star Classic and in the NFL pre-season. Obviously, having playing defensive line in college, Nash has better technique and feel for rushing the passer than most outside linebackers. Not afraid of physical contact, Nash seems to enjoy fighting through traffic to make plays, which makes him a natural for special teams. With young outside linebackers like O'Brien Schofield and Sam Acho to learn from, I think Nash will impress next off-season and win a job as the primary backup outside linebacker.
3. Al Netter OT / OG Northwestern 6050 E 310 E 5.05 E San Francisco 49ers Practice Squad
Netter is an interesting developmental offensive line prospect because he has the feet and athleticism to play offensive tackle, but "on the hoof" looks more like a guard. The trouble is that he is not aggressive as a blocker which allows edge pass rushers to beat him around the corner, bull rushers to drive him backwards and defensive linemen to stop him in his tracks on straight ahead run blocks. He is worth trying to develop because of his athleticism, but Netter must become strong and block more aggressively, especially with his hands, if he is going to ever make it in the NFL.
4. Mike Person OT / OG / C Montana State 6044 298 5.08 Seattle Seahawks Practice Squad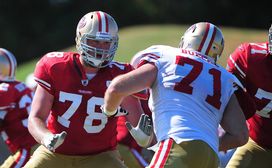 US PRESSWIREMike Person (#78) pass blocks during training camp practice.
After impressing me on Montana State film I have been surprised that Person has not developed quicker. A very quick footed athlete with the flexibility to bend knees and sink hips to block with base, Person's ability to slide out to protect the corner and to re-direct and slide to adjust to quick pass rush moves is impressive. However, Person is not a big lineman and is somewhat of a "tweener" in that he has the athleticism to play tackle, but has short arms which limit his ability to consistently block edge rushers. Then when he has lined up at guard his lack of bulk limits his ability to play strong vs. NFL defensive tackles. While it is unlikely that Person will ever become a starter, his athleticism, versatility and competitiveness give him the tools to be a five position backup whose best chance at developing into a starter may well be at center.
5. Brandon Washington OG Miami 6027 320 5.21 St. Louis Rams Practice Squad
An extremely strong and powerful offensive lineman, Washington is adjusting to playing inside at guard after playing tackle his final season at Miami. While he definitely could have improved his draft stock if he had stayed for his senior season, he is still an excellent developmental guard prospect. With the flexibility to bend knees and sink hips, Washington can easily pass block with good base. This allows him to slide well side to side in a small area to adjust to quick change of direction pass rush moves. He uses his violent hands well to jolt defensive lineman and is consistently able to "get a good fit" in order to keep man pinned on line in pass pro and to get movement on in-line run blocks. If Washington does not learn to compete harder on every snap and play with better intensity he will never take advantage of that talent he has. Washington has all the tools to become a good starting guard for the Rams who are in desperate need of one.
Email Russ at Russelllande@yahoo.com and Follow Russ on Twitter @RUSSLANDE.