October 02, 2012 -
National Football Post
NFC West Practice Squad Breakdown
October 2, 2012 - Practice Squad Analysis – NFC West (Part One)
Not surprising to anyone, numerous players have been injured in the first month of the NFL season. This has led to a number of practice squad players being signed to active rosters, both by the team whose practice squad they were on or another team stealing them away. While some NFL analysts discuss practice squad players as nothing more than "practice bodies," most NFL teams realize the value of building a strong practice squad with players with real developmental potential. Unlike most weeks where we break down the first most interesting practice squad players in a division, this week we look at the first five of ten practice squad players in the NFL West that we believe have the tools to develop into contributors on the 53 man roster. On measureables listed, they are all verified (As in taken by someone in the NFL) unless they have an "E" next to them, which stands for estimated.
1. Steven Baker OT East Carolina 6077 312 4.87 Arizona Cardinals Practice Squad
Despite only starting at offensive tackle for one season at East Carolina, Baker showed enough athleticism and potential to warrant being signed as a free agent after the 2012 NFL Draft. At nearly 6'8 Baker has the length that NFL teams love at offensive tackle and combined with his good arm length and big, strong hands he has the tools to be a top pass blocker with improved technique. Unlike most tall offensive linemen, Baker has the knee and hip flexibility to get low to block with good base, but his lack of experience shows up in his tendency to still block straight legged and high. For Baker to become a "swing" tackle or potentially a starter, he will need to become more consistent blocking with base/leverage so that he can slide and adjust laterally to adjust effectively in pass pro and to maintain run blocks out in space.
2. Sammy Brown OLB Houston 6016 243 4.66 E St. Louis Rams Practice Squad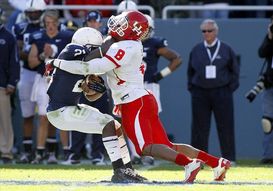 ICONHouston linebacker Sammy Brown makes tackle.
One of the more frustrating linebackers I evaluated for the 2012 NFL Draft, Brown is definitely capable of starting in the NFL and that is why he is an excellent developmental prospect. Excelling in pass coverage has become paramount for a linebacker to shine in the NFL and this is where Brown is the strongest. Smooth and fluid in his pass drops, he can flip his hips to change directions easily and can cover backs and tight ends in man coverage without issue. Remarkably, for a player who racked up 13