February 23, 2012 -
National Football Post
NFL Combine: Afternoon news and notes
INDIANAPOLIS— News and notes from day one...

• Iowa OT Riley Reiff said he weighed in at 6-5, 313-pounds with "33 and something" (his words not mine) inch arms. He also discussed his wresting background and how it helped him develop as an offensive lineman with hand placement, footwork and overall endurance.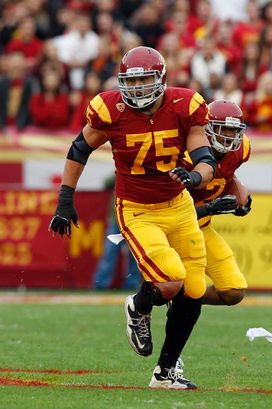 ICONKalil is actually younger than Tyron Smith.
• It was funny to hear USC OT Matt Kalil mention the fact that he is actually older than former Cowboys 2011 first round pick Tyron Smith. However, he said Smith has been a big help to him during the draft process.

• Wisconsin OL Kevin Zeitler will be working out at both guard and center at his pro day. He said it's important to show some versatility and he knows he can make the line calls at center. He also highlighted both Penn State DT Devon Still and Michigan State DT Jerel Worthy as the two top players he faced this year.

• Stanford OT Jonathan Martin isn't in agreement that USC OT Matt Kalil is the best lineman in the class. Martin said that he's a competitor and that he has to believe that he is the best left tackle prospect in the draft.

• Martin's teammate TE Coby Fleener will only be bench pressing and interviewing with teams over the next couple days, referencing his high ankle sprain he suffered during training.

• Finally, when talking with Georgia TE Orson Charles, he compared his talents to New England Patriots TE Aaron Hernandez and says he can do a lot of the similar things. He also pointed out that he likes to block and isn't just a "flex" guy.
Check out the NFP Draft page here...