February 28, 2012 -
National Football Post
NFL Combine: Breaking down the DB workouts
News and notes from Tuesday…

• It was a solid day for LSU CB Morris Claiborne. He ran a little slower than I thought (high 4.4 range). However, he displayed good fluidity when asked to turn and run during positional drills. And outside of getting a bit high at times, he certainly exhibited the length, quickness and balance to mature into an upper echelon corner in the NFL.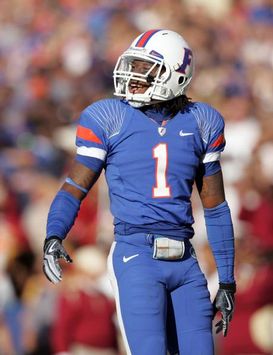 ICONJenkins was impressive throughout Tuesday.
• North Alabama CB Janoris Jenkins was in my view the real winner from Tuesday. Not only did he look very balanced and flexible when asked to change directions and turn and run during positional drills. He also ran in the mid 4.4 range and posted an electric 1.47-ten yard split. That's click and close ability at it's finest.

• Another top tier corner who had a strong day was South Carolina's Stephon Gilmore. The 6-1, 190-pound defensive back posted a 40 time of 4.37, showcased good range in the deep half and tracked the football well. He looks like an ideal zone type corner who can hit, range and track the football out of his breaks.

• On the other hand, it wasn't a great day for Oregon corner Cliff Harris who not only surprised for all the wrong reasons with a 40 in the 4.6 range. But, he also looked sloppy during positional drills, struggling to keep his feet under him and get out of his breaks. Overall, he looks like a developmental late round/free agent type prospect at this stage.

• Small school defensive back Justin Bethel from Presbyterian is a well-built kid at 6-0, 200-pounds and had a strong performance Tuesday. He not only ran in the 4.5 range, but also looked really impressive sitting into his drop, staying balanced and fluidly turning to running. He's a guy who looks capable of playing both CB and FS at the next level and could see his stock rise because of the weaker safety class.

• I was a fan of Iowa State CB Leonard Johnson on tape. However, it's tough to give a corner who lacks size (5-10) and speed (4.65) and high grade.

• Boise State SS George Iloka had a strong showing as a straight-line athlete, running in the high 4.5 range. However, there is some obvious tightness when asked to turn and run, which can be expected for any 6-3 defensive back. Nevertheless, he still looks like a top-100 pick to me and future starting SS.

• Speaking of safeties, two guys who I really like are South Carolina State's Christian Thompson and Arkansas State's Kelcie McCray. Both are tall, well-built athletes who ran in the high 4.4 range. And in a weak safety class both could see their stock rise into the mid-round range.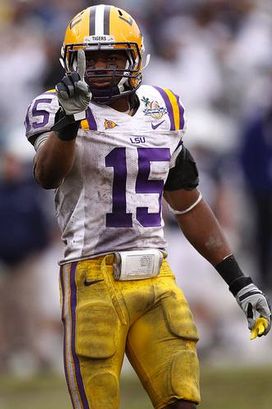 ICONTaylor continues to help himself.
• On the other hand, small school corner Ryan Steed from Furman affirmed my concerns when watching him on tape, that he doesn't possess the top end speed to run with NFL receivers vertically. He posted a 40-time in the low 4.7 range and just doesn't strike me as a guy who is worth much more than a later round pick.

• Another safety who should continue to rise up draft boards is LSU's Brandon Taylor. He's a former cornerback who ran in the 4.5 range. Plus, he possesses a thick trunk, has some pop as a tackler and solid foot quickness for the position when asked to close.

• Alabama CB Dre Kirkpatrick ran a bit faster than I expected, posting a time in the mid/low 4.4 range. He's a long, lean kid who isn't the most explosive of athletes (10-foot broad, 35-inch vertical), but his solid 40 time looks to have locked up his spot in the top-15.

• Finally, Central Florida cornerback Josh Robinson put down two ridiculous times of 4.31 and 4.29 unofficially on his forties. He's a guy who didn't flash that kind of elite speed on tape. Nevertheless, he's a talented underclassman who definitely will see his stock on the rise post combine.
Check out the NFP Draft page here...