February 27, 2012 -
National Football Post
NFL Combine: Breaking down the defensive linemen
• Clemson DE Andre Branch displayed an impressive combination of size and explosion as an athlete. Not only did the 6-4, 260-pound prospect run in the low 4.6 range. However, he had one of the fastest get off bursts of all the linemen working out with a 1.56 ten yard split, which proves he has the initial explosion to threaten the edge.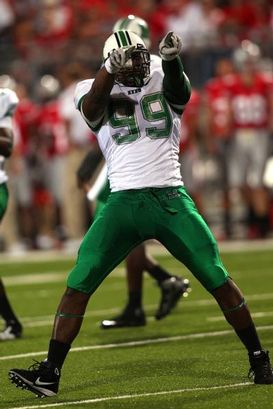 ICONCurry struggled to keep pace with the rest of the DE group.
• On the other hand, Marshall DE Vinny Curry didn't show nearly the same type of initial explosion throughout his workout. He ran in the 4.9 range, didn't look real impressive getting out of his stance and whenever you have a guy in the 250-pound range running in the 4.9's, it's never a good combo.

• Watching Syracuse DE Chandler Jones try to keep his pad level down during his workout Monday and create an initial burst was frustrating throughout. He's a great looking athlete with nearly 36-inch arms. However, he ran in the mid 4.8 range, had a tough time dropping his pad level and keeping his feet under him throughout the day. Looks like a guy who could struggle rushing the passer at the next level.

• OLB Bruce Irvin finally was able to showcase his talents this post-season. The West Virginia product looked explosive off the snap, ran in the high 4.4/low 4.5 range and displayed the initial burst needed to consistently threaten the edge off the snap at the next level during positional drills. Overall, if he checks out from a character standpoint I wouldn't have any qualms using a top-60 pick on him.

• Junior DL Fletcher Cox also put on quite the show. The 6-4, 298-pound lineman from Mississippi State not only ran an impressive 4.8 40 time. However, his ten-yard split was in the low 1.6 range and he displayed a real explosive element to his game when asked to change directions during positional drills. He still has a tendency to pop upright, however, there's a lot to like athletically about his game.

• He doesn't get nearly the pub of some of the other top potential 34 OLB prospect, but Boise State's Shea McClellin put on another show Monday. He ran in the low/mid 4.6 range and displayed an explosive first step with a ten-yard split of 1.59. Plus, for a guy who weighs 265-pounds he exhibited "plus" fluidity during positional drills.

• What else can be said about Memphis DT Dontari Poe? The 6-5, 348-pound freak of nature not only displayed an explosive first step with a split of 1.7. However, his sub 4.9 forty is just unreal. Add in the fact he's got a powerfully build lower half and he looks like a guy capable of playing anywhere on a 34 front as well as either defensive tackle spots on a 43. Poe looks like he locked up a first round grade for himself with this workout.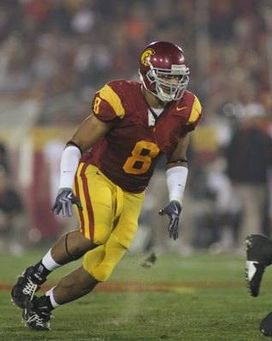 ICONPerry ran well Monday.
• It will be interesting to see how NFL teams stack up Illinois DE Whitney Mercilus and USC's Nick Perry. Both posted a 1.57 ten-yard split and both looked a bit tight during positional drills. However, I graded Perry out higher because he showcased a better closing burst once he gained a step, something that was evident by his 4.5 40 time.

• As much as Dontari Poe stole the show Monday, don't sleep on Washington DT Alameda Ta'amu. Ta'amu at 348-pounds also posted an impressive time in the 5.3 range and showcased some natural get off burst for his size. He has a tendency to play a bit upright at times and doesn't have the upside of Poe. However, I think he's a much safer prospect if you're looking for a guy to anchor in inside of a 34 front.
Check out the NFP Draft page here...