February 27, 2012 -
National Football Post
NFL Combine: Breaking down the linebacker workouts
• Lets start with the biggest winner of the day, Boston College ILB Luke Kuechly. The BC standout had some questions coming in concerning his straight-line speed. However, he ran anywhere in the 4.5-4.6 range and posted an explosive 38-inch vertical. He looked coordinated during positional drills and overall looks like the safest prospect on the defensive side of the ball in the NFL draft.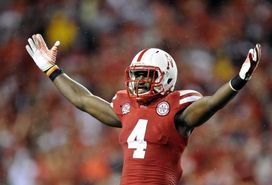 David showed well for himself Monday.
• Another guy who ran well was Cal LB Mychal Kendricks. The former Golden Bear put down the fastest time in the linebacker group with an unofficial 4.41. Now at 5'11, 239-pounds there are some questions about his size. However, he's a violent kid with a natural burst, showed an explosive element to his game during the workout and overall looks like a guy who could find a role as a starting backer either inside in a 34 front or at the mike/will spots in a 43.

• The one guy I am going to continue to harp on is Arkansas State LB Demario Davis. The standout linebacker ran in the low 4.5 range, got up to speed quickly and has a real explosive element to his game when asked to close on the football. He will get a bit leggy at times, but he can sink his hips, gather his feet quickly and I could see coming off the board sometime during day two.

• It was a day to forget for Arizona State LB Vontaze Burfict. The thumper inside ran in the 5.0- range and simply didn't generate much initial explosion off the line. He's got some good tape as a sophomore, but struggled as a junior, has some character concerns and his athleticism is now questionable as well.

• He isn't the biggest, (6-1, 233) but Nebraska LB Lavonte David displayed good straight-line speed (4.56) and looked real quick footed/explosive during positional drills. He settled his feet quickly, could sink his hips and despite getting a bit out of control at times trying to "play the drill" instead of reacting. To me, he's a linebacker who will be one of the most productive second round prospects picked in this year's draft.

• Finally, it was a good day for Alabama ILB Dont'a Hightower. At 6-2, 265-pounds he ran in the low 4.6 range. He was a little tight during workouts, but in my mind is the most physically talented ILB prospect in the draft. He's a guy who can be a dominant force inside if he's willing to play with a motor consistently, something that doesn't show up on tape at this time.
Check out the NFP Draft page here...