February 24, 2012 -
National Football Post
NFL Combine: Day Two Afternoon Notes
INDIANAPOLIS—News and notes from day two...

• Baylor QB Robert Griffin III measured in just over 6-2 and a solid 223-pounds. He said he won't throw at the Combine because he wouldn't ever throw to receivers he never met before during a game. Plus, he mentioned that the Baylor offense wasn't nearly as simplistic as people think, as it was both number and concept based.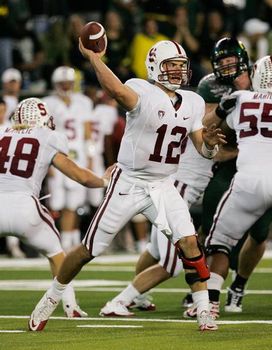 ICONLuck was again very impressive.
• Griffin's teammate, wide out Kendall Wright stressed that he's been working on his route running a lot during the post season. He met with eight different teams last night, including the entire coaching staff from the Browns.

• I was a bit surprised to hear how soft spoken Oklahoma State wide out Justin Blackmon was this afternoon during his press conference. He said he doesn't like to talk much off the field. However, he knows how to flip the switch on game day. He also mentioned that he's going to run faster than people think and noted that he has never been caught from behind.

• As good as Stanford quarterback Andrew Luck's mechanics are from the pocket, he still sees ways he can tighten up his footwork and release in order to get the ball out quicker. He says the NFL game moves fast and that he's always looking for ways to play faster. An impressive point from a guy who is as balanced and fundamentally sound from a mechanics standpoint as you will find from any quarterback prospect.

• The line of the day went to Alabama RB Trent Richardson who said that he almost gets angry when he hears that prospects who are capable of working out at the Combine don't, and as a competitor he feels like that what NFL prospects are suppose to do. He also added that he's very frustrated he won't be able to workout due to his recent knee scope.
Follow me on twitter: @WesBunting
Check out the NFP Draft page here...