February 24, 2012 -
National Football Post
NFL Combine: Day Two Morning Notes
INDIANAPOLIS—News and notes from day two...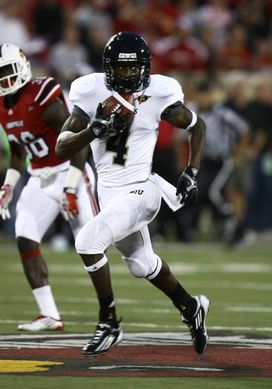 ICONHilton can help out on special teams.
• Georgia Tech wide out Stephen Hill measured in at 6-4, 215-pounds and said he has run in the 4.3 range but expects to run in the low 4.4 range at the Combine. He also talked about his development as a route runner and that despite him being raw, he says he understands how to read coverages and can improve in that area.

• Interesting tidbit to keep an eye on for next year's draft as Wake Forest WR Chris Givens referenced Florida State CB Xavier Rhodes as the best corner he faced during his time in the ACC. Givens talked about his long, physical style off the line and his ability to be effective in press man, which is one of the biggest concerns I have for him at the next level.

• Northwestern "do-it-all" threat Drake Dunsmore says he hoping to run in the 4.5 range and says he's been watching a lot of Indianapolis Colts TE Dallas Clark in preparation for the number of roles he can play at the next level.

• The biggest point Florida International wide out T.Y. Hilton stressed was his skill set and ability to create plays on special teams. He said he can play in the slot, but adds a lot of value in the return game as well.

• Oklahoma WR Ryan Broyles who is coming off a torn ACL said he hopes to workout in late April for NFL teams and be ready to go full tilt by mini camp in May

• Finally, Notre Dame WR Michael Floyd talked about his capabilities of playing any role on an offense. He cited his comfort level playing in the slot, as well as his ability to play on the outside. I think this is one of the biggest assets of Floyd's game as has the ability to win one-on-one at just about any spot on an offense.
Check out the NFP Draft page here...
Follow me on twitter: @WesBunting