March 01, 2012 -
National Football Post
NFL Combine: Defensive Risers
A look at the top defensive prospects who boosted their stock the most…
Mississippi State DL Fletcher Cox
The 6-4, 298-pound lineman from Mississippi State not only ran an impressive 4.8 40-time. However, his ten-yard split was in the low 1.6 range and he displayed a real explosive element to his game when asked to change directions during positional drills. He still has a tendency to pop upright on tape. However, there's a lot to like athletically about his game and he's got the skill set to project as either a three or five technique in the NFL.
Draft Status: Top-20 Pick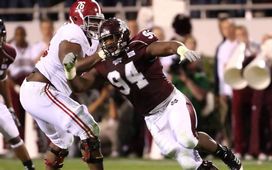 Cox's stock is on the rise.
South Carolina CB Stephon Gilmore
The 6-1, 190-pound defensive back posted a 40 time of 4.37, showcased good range in the deep half and tracked the football well. He looks like an ideal zone type corner who can hit, range and track the football out of his breaks. Size and speed wins at the cornerback spot and Gilmore is one of the few prospects in the class that grades out highly in that area.
Draft Status: Top-35 Pick
Boise State OLB Shea McClellin
He doesn't get nearly the pub of some of the other top potential 34 OLB prospects, but Boise State's Shea McClellin put on another show Monday. He ran in the low/mid 4.6 range and displayed an explosive first step with a ten-yard split of 1.59. Plus, for a guy who weighs 265-pounds he exhibited "plus" fluidity during positional drills and will be on just about every teams draft board because of his versatility and ability to play in any scheme.
Draft Status: Top-60 Pick
Clemson DE Andre Branch
Branch displayed an impressive combination of size and explosion as an athlete. Not only did the 6-4, 260-pound prospect run in the low 4.6 range. But he also had one of the fastest get off bursts of all the linemen working out with a 1.56 ten yard split. He proved he has the initial explosion to threaten the edge and get some looks as a 3-4 OLB as well.
Draft Status: Top-60 Pick
Presbyterian DB Justin Bethel
He's a well-built kid at 6-0, 200-pounds and had a strong performance Tuesday during the defensive back workouts. He not only ran in the 4.5 range, but also looked really impressive sitting into his drop, staying balanced and fluidly turning to running. He's a guy who looks capable of playing both CB and FS at the next level and could see his stock rise because of the weaker safety class.
Draft Status: Mid Round Pick
West Virginia OLB Bruce Irvin
The West Virginia product was finally was able to showcase his talents this post-season and did not disappoint. He looked explosive off the snap, ran in the high 4.4/low 4.5 range and displayed the initial burst needed to consistently threaten the edge off the snap at the next level during positional drills. Overall, if he checks out from a character standpoint I wouldn't have any qualms using a top-60 pick on him.
Draft Status: Top-75 Pick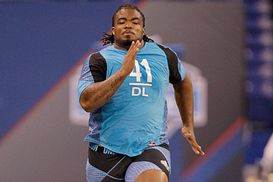 Poe ran his way into the top-20.
Memphis DT Dontari Poe
What else can be said about Memphis DT Dontari Poe? The 6-5, 348-pound freak of nature not only displayed an explosive first step with a split of 1.7. However, his sub 4.9 forty is just unreal. Add in the fact he's got a physically build lower half and he looks like a guy capable of playing anywhere on a 34 front as well as either defensive tackle spots on a 43. Poe looks like he locked up a first round grade for himself with this workout and now could press the top 10-15 picks.
Draft Status: Top-20 Pick
Central Florida CB Josh Robinson
Robinson put down two ridiculous times of 4.31 and 4.29 unofficially on his forties. He's a guy who didn't flash that kind of elite speed on tape. Nevertheless, he's a talented underclassman who definitely will see his stock on the rise post combine.
Draft Status: Top-75 Pick
Boston College ILB Luke Kuechly
The BC standout had some questions coming in concerning his straight-line speed. However, he ran anywhere in the 4.5-4.6 range and posted an explosive 38-inch vertical. He looked coordinated during positional drills and overall looks like the safest prospect on the defensive side of the ball in the NFL draft.
Draft Status: Top-20 Pick
Cal LB Mychal Kendricks
The former Golden Bear put down the fastest time in the linebacker group with an unofficial 4.41. Now at 5'11, 239-pounds there are some questions about his size. However, he's a violent kid with a natural burst, showed an explosive element to his game during the workout and overall looks like a guy who could find a role as a starting backer either inside in a 34 front or at the mike/will spots in a 43.
Draft Status: Top-100 Pick
Want to learn how to study the NFL Draft? Click here to sign up for the NFP's online scouting class.