March 03, 2011 -
National Football Post
NFL Combine doesn't help safety class
Breaking down what I saw from the final day at the NFL Combine with a distinct focus on the safety class.
Top prize…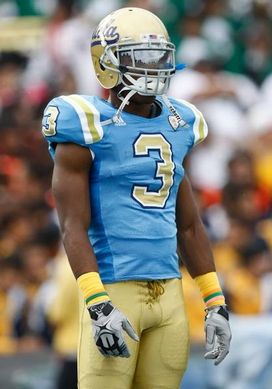 ICONMoore looks like the draft's top safety prospect.
FS Rahim Moore: UCLA
When you look at Moore physically, he possesses the frame more so of an NFL corner. He's narrow, lacks ideal bulk and isn't a guy who will consistently tackle in the run game. However, what was even more alarming was his lack of straight-line speed, officially timing in the low 4.6 range. To his credit he does showcase natural fluidity when asked to turn and open up his hips, and does get back up to speed quickly. The UCLA product also does a nice job staying low in his drop and has the ability to transition quickly out of his breaks and track the football. However, despite being the top safety prospect in the class, I still don't see him as much more than a third-round pick and he doesn't look like nearly the safety prospect last year's third-round picks Morgan Burnett and Major Wright were.
Middle of the pack…
SS DeAndre McDaniel: Clemson
McDaniel ran about what I expected from him, timing in the mid 4.6 range, but what was a bit of a turnoff was his overall build. He looked like he had some additional girth through the mid-section and I would like to think he would be able to lean out a little in the NFL. I thought he displayed some natural balance and decent fluidity for a big guy when asked to open up his hips. However, he routinely would allow his pad level to rise and there was simply no initial burst out of his breaks, as he seemed to only have one gear. He's a strong safety only who possesses good ball skills and knows how to go make a play on the throw, but you want to keep him out of space in the deep half.
FS Quinton Carter: Oklahoma
The one thing I like about Quinton Carter is that he's got a good-looking frame, is a strong kid and possesses some natural pop as a striker. However, I was a bit surprised to see him run in the low 4.6 range. Now, he did look very comfortable when asked to go get the football during positional drills. But, he struggled to keep his pad level down in his drop, gets leggy and looked tight hipped trying to redirect. Once he collected himself he did have a better initial burst than McDaniel out of his breaks, but much like McDaniel, Carter isn't much more than a potential starter only.
The Riser…
FS Chris Culliver: South Carolina
Culliver moved from safety to cornerback as a senior, but a lot of talent evaluators feel — myself included — that he's really a better fit for a free safety spot in the NFL. And with the weaker class and Culliver displaying legit 4.4 speed at the Combine, he's the one guy who has the range to consistently hold up in the deep half at the next level. He displayed good fluidity when asked to turn and run and played a bit high, but the natural skill set is there. Now, Culliver never was a real instinctive safety and in my evaluation his awareness is a concern. Nevertheless, he's got the physical/athletic capabilities to play in the center field type role at the next level, and that's more than you can say about most of these prospects.
How bad did it hurt?
SS Ahmad Black: Florida
If feels like I always preface every Ahmad Black write-up with "I like the guy as a football player." Black is a tough, instinctive kid who finds the football and makes plays on the throw. However, running in the high 4.7 range is enough to cause any defensive back to dramatically fall, let alone an undersized safety. He's a guy who can't be asked to play in too much space in the NFL because of his lacking range and looks more like a nickel guy only in more of a zone scheme. The question is just how high does he go? Again, I like the player, but it's going to be tough to sell the guy as much more than a later round pick in my view.