February 28, 2011 -
National Football Post
NFL combine notes: LB breakdown
Some notes looking over the 2011 linebacker group from day three at the NFL combine.
• Texas A&M linebacker Von Miller
was timed in the sub-4.5 range according to some stopwatches in attendance at the NFL combine and was a real standout during positional drills. He was fluid, cleanly got out of his breaks and possessed a good closing burst throughout. Miller is the most NFL ready pass rusher in the draft and I can't see him making it past the top 6-picks at this stage.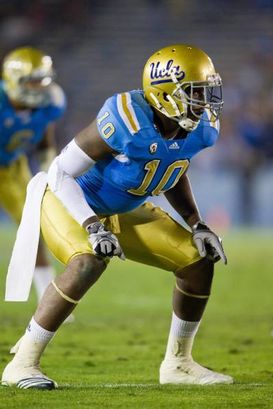 ICONAyers had an inconsistent day at the Combine.
• I wasn't overly impressed with the 4.83 40-time put up by UCLA's Akeem Ayers Monday. However, when watching him throughout positional drills he displayed natural change of direction skills, had a real burst to his game and looked very athletic for his size. Honestly, based off the drills and tape alone, I would have said the guy runs in the 4.6 range. Therefore, in my mind you can't read too much into his slower 40, as he clearly plays faster than he times.
• One prospect who made himself some money this week was Illinois LB Martez Wilson. Wilson didn't quite have the type of natural bend to his game as a guy like Ayers. However, he ran much better 40 (high 4.4 range), was still fluid for his size when asked to open up his hips during position drills and overall could now get some looks in that late first round range as an intriguing 3-4 rush backer.
• The more I watch Georgia DE Justin Houston try to hold up in the space, the less I think the guy is a 3-4 OLB. Now don't get me wrong, Houston can rush the passer. He timed in the high 4.6 range today, was explosive off the football and is natural from a three-point stance. However, I don't think he has the type of natural agility in his drop to hold up in coverage at the next level.
• Another guy who seemed a bit tight during workouts today was UNC linebacker Quan Sturdivant. He didn't demonstrate a real burst when asked to get out of his breaks and seemed to almost fight himself trying to get back up to speed. Sturdivant wasn't overly fluid either and didn't possess great short area quickness in any area of the game.
• Finally, one guy who I think is going to be a real mid/late round steal for a cover two team is Ohio State's Brian Rolle. The undersized linebacker ran in the 4.6 range, was fluid/balanced during positional drills and really possesses a good burst to his game. He isn't going to be much more than a nickel backer on most team's draft boards, but the guy can run and hit with the best of them.