February 26, 2012 -
National Football Post
NFL Combine: Skill guys take center stage
News and notes from Sunday…

• What can you say about the performance put on by Georgia Tech wide out Stephen Hill? The 6-4, 215-pound wide out blitzed his 40 in the low 4.3 range and at his size could now make a run at the back end of round one. He's an explosive leaper as well and can routinely win down the football field. Size/speed gets you drafted high and Hill has an elite combo.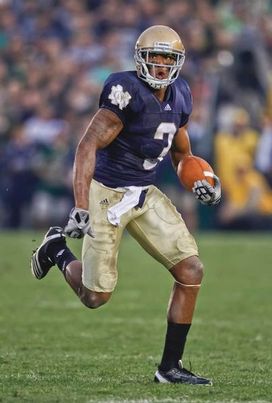 ICONFloyd stood out Sunday.
• It was a good day for Notre Dame wide out Michael Floyd as well. At nearly 6-3 he posted a mid 4.4 forty time displayed the type of speed needed to get down the field vertically. He's another size/speed option who looks like a lock for round one.

• Baylor QB Robert Griffin III might have just "upped" the asking price for the number two overall pick after posting a sub 4.4 40 at the Combine. The former track star possesses elite top end speed for the position and despite not being nearly as sudden in the open field as Eagles QB Mike Vick, he proved that he has the straight-line burst to create big in space.

• I still have questions about Arizona WR Juron Criner and his ability to quickly separate at the next level consistently out his breaks. He ran in the 4.6 range Sunday and just isn't a real dynamic self-starter. He looked coordinated during positional drills however. But, I still see him more as a reserve only in the NFL.

• Both North Carolina State wide out T.J. Graham and Miami WR Travis Benjamin ran in the sub 4.4 range. However, in my mind Graham was the bigger winner. He looked much more natural adjusting to throws and catching the football during positional drills, whereas Benjamin had a tendency to fight the ball too often. Overall, Graham deserves the higher grade in my mind as a mid/late round vertical threat.

• I was a bit disappointed by the 40 put down by <a href="http://footballpost.wpengine.com/college_big_board_rankings.html&position=wr" target="_blank">Arkansas wide out Joe Adams. He's a guy who definitely plays faster than he times (mid 4.4 range). However, he was one prospect who I thought could put down a potential sub 4.4 time.

• Richmond QB Aaron Corp proved today that he has in fact regained most of his athleticism from his past knee and leg injuries running in the 4.6 range. However, even more impressive was how well he threw the football. He doesn't have a big arm, but stayed in balance well through his release and threw a very catchable football with good accuracy in all areas throughout.

• It's been a rough year and half for Arkansas WR Greg Childs with all the injuries. However, the big target showed well during workouts today. What stood out the most was his 1.5-second ten-yard split. One of the fastest in the group and a great number for a receiver of his size, displaying his ability to play fast out of his breaks.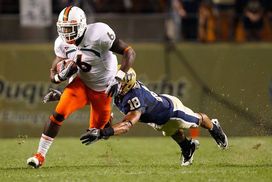 ICONMiller gets up to speed quickly.
• It wasn't an ideal day for Ohio State RB Dan Herron. Herron is a solid football player in all areas of the game and plays faster than he timed (4.65). However, anytime you have a back that runs in the mid 4.6 range, it's not going to help his stock and could cause him to fall into the later rounds.

• On the other hand Miami RB Lamar Miller was another Hurricane who blitzed his 40-yard dash today with a sub 4.4 time. He reaches top end speed quickly, accelerates well and looks like a guy who should be a lock for round two and is more of a fit in a zone-blocking scheme.

• Finally, Florida's do-it-all back Chris Rainey displayed elite straight-line speed running he 4.3 range. He's a guy who can play both in the slot and in the backfield, and proved he's got dynamic open field speed and initial burst . Rainey could end up seeing his name come off the board somewhere in the 3rd round range.