February 09, 2011 -
National Football Post
NFL Combine snub list
A look at which prospects got the worst deals in being overlooked for the 2011 NFL Scouting Combine.
WR Courtney Smith: South Alabama
He looks the part at 6-4, 220 pounds, can really run for a guy his size and I would have loved to see how he stacked up with the rest of the top-tier receivers from an athletic standpoint. Now, he had some trouble with drops at the Senior Bowl — putting it nicely — but the guy is a physically gifted talent who is dripping with upside and in my view at least warrants a late-round flier just due to his size/speed numbers alone.
DL David Carter: UCLA
Carter is a first-year starter who has done nothing but get better as the season went on. He put together a few dominant practices as the East-West Shrine game and at 6-5, 300 pounds, the guy has the size to play in just about any scheme. I think he's one of the more intriguing mid/late-round senior defensive linemen in the draft.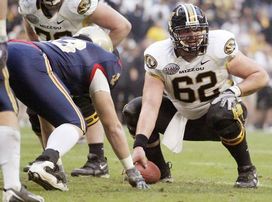 IconDespite being one of the best center prospects in the nation, Barnes is not on the list.
OC Tim Barnes: Missouri
In my view the center class is one of the worst positional groupings in the 2011 draft. And Barnes looks like one of only a few guys at the position with some starting potential at the next level. He's an athletic kid with quick hands, can sit into his stance and mirror through contact. He isn't overly powerful off the snap, but offers enough talent to get a hard look during the middle rounds and is currently one of the top three centers in the class on my board.
OLB Thomas Keiser: Stanford
Talk about a rude awakening. After declaring early for the 2011 NFL draft as a junior, the least of Keiser's concerns was getting an invite to the NFL Combine. However, that's the case. Keiser isn't the most impressive of athletes, but he's a productive kid who has a good feel for the game and is a similar type prospect to Arizona's DE/OLB Ricky Elmore, who got an invite. I don't think Keiser goes as high as he could have gone if he stuck around for his senior year, but at the same time I still think he's worth a later-round pick.
CB Ryan Jones: NW Missouri State
Jones is still a work in progress, as he's been able to be more of an athlete playing cornerback at the D-II level, relying on his athletic skill set to make plays. He seems to be working hard at his trade, as his technique was improved at the NFLPA game. However, he still doesn't seem natural sitting into his drop at this stage. Nevertheless, he's a well-built kid who is going to run really well at his pro day and I think because of his size/speed numbers will warrant a pick late.
LB Josh Bynes: Auburn
Bynes isn't the most gifted of athletes, but he's a tough, downhill backer who can tackle inside the box and has been a productive leader on the national champion Auburn Tigers defense over the past couple seasons. And much like the center position, the middle linebacker spot is another really weak class, as I see Bynes as one of the few prospects at the position capable of making a roster and fighting for playing time down the line.
OT Derek Hall: Stanford
A former defensive lineman who made the move to tackle during his time at Stanford and has only one year of starting experience. Now, he's still raw in pass protections and has a tendency to get far too overextended with his footwork on the edge. However, he displays natural bend off the ball, gains leverage in the run game and displays the willingness to finish blocks. He still possesses a fair amount of upside/growth potential to his game and is one of the more intriguing mid/late round offensive tackle prospects in my view in the draft.
Follow me on twitter: @WesBunting