February 14, 2012 -
National Football Post
NFL Combine Snubs: Defense
Breaking down the top defensive prospects to get the snub from the NFL combine…

DE Kentrell Lockett: Mississippi (6-5, 248)
Flashes some real talent, however, his play gets too predictable as a pass rusher and he's still learning the game. Medical is a huge question mark as well, but he looks like a developmental guy at this stage who needs to prove he's healthy.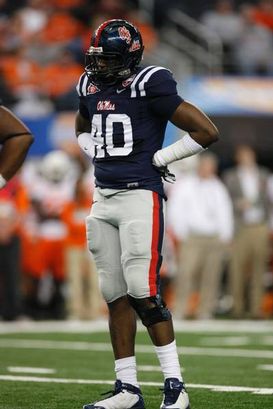 ICONLockett is a long, lean athlete with some upside.
DT Chigbo Anunoby: Morehouse (6-4, 324)
He's never going to be a "plus" pass rusher in the NFL. However, he's a strong, long kid with a really well proportioned frame who can anchor inside and certainly has the talent to get plenty of looks from both 34 and 43 teams as a developmental big body.

DT Micanor Regis: Miami (6-3, 305)
Improved as a senior. Did a better job keeping his pad level down and using his quickness to get up the field. Could fight his way into an NFL rotation.

OLB Sammy Brown: Houston (6-3, 240)
A highly productive pass rusher who has come a long way since being a JUCO transfer. Has a feel for getting after the passer, exhibits a good burst and closing speed around the edge and is an intriguing 34-type prospect.

ILB Jerry Franklin: Arkansas (6-1, 245)
A coordinated middle linebacker prospect who picks his way through the line of scrimmage, finds the football and can hold his own in coverage. However, would like to see a more explosive element to his game in all areas. A solid MLB prospect, not the top-tier senior backer many are making him out to be in my view.

ILB Chris Marve: Vanderbilt (6-0, 242)
He's a natural leader and plays with a passion for the game. His size is the one negative to his game and he is a bit tight and lacks great range. Is a classic overachiever who could get a look late as a reserve only.

CB Donnie Fletcher: Boston College (6-1, 195)
Possesses good size, ball skills and has a natural feel in coverage. Gets a bit leggy, but can sink his hips and get out of his breaks. Looks like an ideal cover two type corner at the next level with some man-to-man upside.

CB Keith Tandy: West Virginia (5-10, 199)
A solid athlete with a strong frame, good ball skills and natural turn-and-run ability. At times, he will struggle to find the football in man and is raw with his footwork, but he has the talent to warrant a later round pick as a potential inside zone cover man.

CB Jeremy Lane: Northwestern State (6-0, 183)
Has the size and talent to get drafted. Needs to get a bit stronger and clean up his footwork, but has the skill set to play both inside and out in the NFL.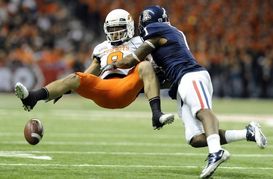 ICONGolden looks like an ideal cover-two corner.
DB Robert Golden: Arizona (5-11, 200)
Might be limited to more of a cover two/click and close type corner, but he does have some developing press coverage skills. Also, has a lot of value as a safety, as he can anticipate in the deep half, drive on throws under him and play over a receiver in nickel situations.

FS Aaron Henry: Wisconsin (6-0, 210)
A good-sized kid with some natural cover skills and range, but is still learning the mental nuances of the game. Still developing at the position, but skill set says potential starter.
Follow me on twitter: @WesBunting
Check out the NFP Draft page here...