February 13, 2012 -
National Football Post
NFL Combine Snubs: Offense
Breaking down the top offensive prospects to get the snub from the NFL combine…
QB G.J. Kinne: Tulsa (6-2, 234)
He isn't nearly as impressive physically as some of the other quarterbacks to get invites. But he is your typical gritty QB prospect who is the son of a coach and in my view will find a way to make a roster and potentially fight for playing time down the line. Also, displays the kind of sneaky arm strength to make all the throws.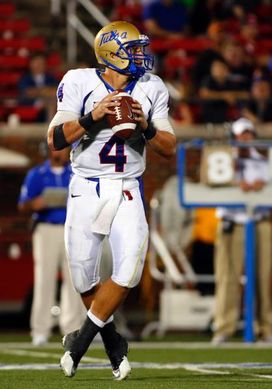 ICONKinne is one of the draft's most underrated prospects.
QB Alex Tanney: Monmouth (6-3, 216)
At worst, the guy looks like an intriguing priority free agent with a good amount of upside to his game and could end up warranting a draft pick late on day three.
RB Michael Smith: Utah State (5-9, 205)
An overlooked senior because of the talent in front of him at Utah State but has an NFL skill set and should make a roster. Is compact, displays a good burst and was extremely productive during the regular season.
RB Bryce Brown: Kansas State (6-0, 220)
Watching him run in Lane Kiffin's zone scheme as a freshman, the guy was an impressive back with a lot of natural talent. He was the number one ranked recruit out of high school, ahead of Trent Richardson in 2009 and no doubt has the skill set to play in the league. The biggest question mark for him going forward is his overall character.
WR Lance Lewis: East Carolina (6-3, 209)
A big guy who can line up both inside and out, cleanly get out of his breaks and track the football. Lewis isn't overly dynamic, but has good play speed tracking the football and is guy who could mature into a starter, but more so as a prominent reserve.
TE Brian Linthicum: Michigan State (6-5, 245)
A limited blocker, but has some savvy as a pass catcher and adjusts well to get the football. Isn't a dynamic athlete and his limitations in the run game will hurt him. Looks more like a late round type/reserve only who could potentially make a team because of his ability to work the middle and move the chains.
TE Kevin Koger: Michigan (6-4, 258)
Flashed on tape at times and does have some talent. However, is raw in all areas of the game and looks more like a later round pick who could blossom.
TE Chase Ford: Miami (6-6, 245)
Had a good showing at this year's East-West Shine game and for a guy at his size with his body control looks like a option you can draft mid/late and try to mature into an every down type option. Has the frame to add weight and get bigger.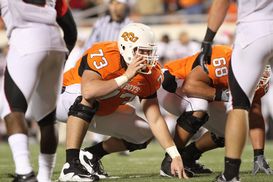 ICONAdcock could play both inside and out at the next level.
OT Levy Adcock: Oklahoma State (6-6, 322)
Needs to clean up his footwork in pass protection, but he's coordinated, can bend and should improve with time. Looks like a guy who is ideally suited to play right tackle, but I could see him being effective as a guard. At best a low-end starter who looks more like a reserve to me.
OG Brandon Brooks: Miami (Ohio) (6-5, 343)
Is a big, strong kid who has some lateral quickness for his size but needs some technique work. Nevertheless, has some upside and can win consistently in the run game and pass game and looks like an NFL starter in an angle scheme to me.
OG Derek Dennis: Temple (6-5, 328)
Is worth a pick because he moves so well for a 325-pound lineman. Needs to learn to play lower though if he ever hopes to be anything more than a reserve. However, his fluidity on the move says he has a chance to mature into a starter.
Follow me on twitter: @WesBunting
Check out the NFP Draft Page here...