February 25, 2012 -
National Football Post
NFL Combine: tight end workout breakdown
Indianapolis-- News and notes from the tight end group…

• It was an impressive group of tight ends working out Saturday, but none may have been as impressive as <a href="http://footballpost.wpengine.com/college_big_board_rankings.html&position=te" target="_blank">Oklahoma's James Hanna. The 6-4, 252-pound target ran in the high 4.4 range, posted a 36-inch vertical and a 10-foot-2-inch broad jump. He did looked a bit unnatural at times catching the football, but overall it was an impressive display of athleticism from Hanna.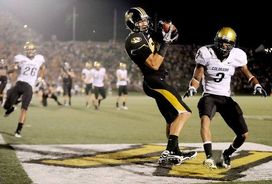 ICONEgnew ran better than most thought.
• Another impressive physical specimen was Louisiana-Lafayette TE Ladarius Green. Green posted a 40-time in the low 4.5 range with a 34.5-inch vertical. He looked natural getting down the seam and tracking the football during positional drills and for a guy his size he displays a "plus" first step off the line.

• I was a bit puzzled by the 4.6 40 time of Missouri TE Michael Egnew. Egnew is a strider who builds speed as he goes and can be somewhat of a threat down the seam. However, he didn't look real explosive at the Senior Bowl or on tape and his 4.6 time might a case of a guy who simply doesn't play as fast as he times. Nevertheless, his workout should only help his stock.

• It wasn't a great performance from Clemson tight end Dwayne Allen who posted a 40-time of nearly 4.9. Plus, he wasn't real explosive in either of the jumps and look pretty average as an athlete during positional drills. Now, he is a coordinated pass catcher who can adjust to the football. However, Allen simply isn't a real dynamic type athlete in any area of the game.

• Another disappointing performance came from UCLA TE Cory Harkey. It wasn't surprising that the massive 6-4, 260-pound threat ran in the 5.1 range. However, for a guy who is going to make his living as a blocker, his 13 reps on the bench was not an ideal number to hit.

• Finally, Temple's "do-it-all" threat Evan Rodriguez had a very solid workout. He ran in the 4.5 range, posted an explosive 36-inch vertical and adjusted to the football well throughout positional drills. He's a guy who can be used in a number of ways on an offense and can be a mismatch guy from either the FB/TE or H-back spots in the NFL.
Check out the NFP Draft page here...