February 08, 2012 -
National Football Post
NFL Draft: All Underrated Team Part II
With only a couple weeks left until the NFL Combine, the NFP looks at which defensive prospects aren't getting the kind love they should at this time and who could be poised for a rise up draft boards over the next couple weeks.
For our underrated offensive prospects click here...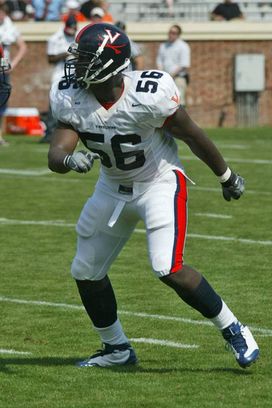 ICONJohnson has the ability to stand-up as well and be effective.
DE Cam Johnson: Virginia (6-4, 270)
A solid college defensive end who has never been much of a sack artist but there are intriguing tools there. Showcases some fluidity in his drop and in coverage and has the ability to mature into a more sudden pass rusher with time. Will get looks in both a 34 and 43 front. Could end up having a similar impact in year one as Cleveland Browns second round pick Jabaal Sheard.
DE Tyrone Crawford: Boise State (6-4, 276)
I like his skill set. I think he's going to develop quickly at the next level and he has the ability to be a solid three down lineman with some time. He isn't there yet, but as a prospect Crawford has some real upside and displays the kind of blue-collar pass rushing mentality that I like with a powerful element to his game on contact.
DT Josh Chapman: Alabama (6-1, 310)
Has the making of a starting caliber nose at the next level in either a 3-4 and 4-3 front. Can consistently anchor on contact, is long armed and tough to move off the football. Also, is a better pass rusher than given credit for. Will likely fall because of medical concerns, but could be a real bargain because of it.
DT Chigbo Anunoby: Morehouse (6-4, 324)
He's never going to be a "plus" pass rusher in the NFL. However, he's a strong, long kid with a really well proportioned frame who can anchor inside and certainly has the talent to get plenty of looks from both 34 and 43 teams as a developmental big body.
OLB Bruce Irvin: West Virginia (6-3, 245)
A gifted athlete who has the initial burst to routinely reach the edge. However, lacks ideal size and doesn't have a real sophisticated pass rushing repertoire. Is going to make the move to a 34 OLB at the next level and might need a little time. Reminds me some of the Seahawks DE Chris Clemons.
ILB Mychal Kendricks: California (6-0, 240)
Is a thick, shorter compact backer who explodes through contact and is a real violent striker. Finds the ball quickly vs. the run and has the range to make plays in pursuit. Lacks ideal size however to stack and shed and lacks a great feel in zone. However, as a thumper inside with the potential to get into the backfield as a blitzer who should get plenty of looks from both 34 and 43 teams in need of a versatile, high motor backer.
OLB Travis Lewis: Oklahoma (6-2, 227)
He's a bit undersized and doesn't tackle as well as you would like inside the box. However, he's a good run and hit backer who plays the run well and will be able to make plays vs. the pass game in the NFL. Looks like a day one starter to me as a 43 backer, either on the weak side or possibly in the middle.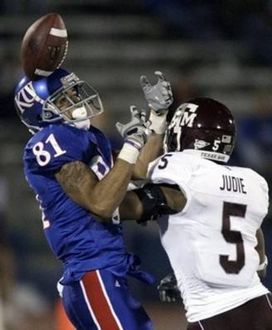 ICONJudie knows how to make plays on the football.
CB Coryell Judie: Texas A&M (5-11, 190)
He's a naturally gifted athlete with good range and great ball skills. Displays enough fluidity and balance to develop as a man-to-man corner, but looks ideally suited for a cover two type role at this stage that allows him to attack the football and create turnovers. An eventual starter in that type of scheme.
DB Desmond Marrow: Toledo (6-3, 210)
Marrow is the type of big defensive back you are willing to take a chance on late because of his athletic and physical skill set. The guy is raw and is going to need time to clean up his technique, but has the size/speed/fluidity to intrigue.
SS Tony Dye: UCLA (6-0, 216)
Isn't an elite athlete, but plays faster than he times. Will tackle consistently and is coordinated in coverage. Looks like a potential special teams stud who with some time could fight his way into a starting line-up as a strong safety. However, due to neck issues that caused him to struggle at times this year, he will likely fall on draft day.
SS Jerico Nelson: Arkansas (5-10, 216)
A tough, rangy kid who holds up well in coverage and I love him as a football player. But where do you play him in the NFL? Body type says strong safety. Looks like a nickel backer to me who can play special teams from day one.
Follow me on twitter: @WesBunting
Check out the NFP Draft page here...