February 07, 2012 -
National Football Post
NFL Draft: All Underrated Team
With only a couple weeks left until the NFL Combine, the NFP looks at which offensive prospects aren't getting the kind love they should at this time and who could be poised for a rise up draft boards over the next couple weeks.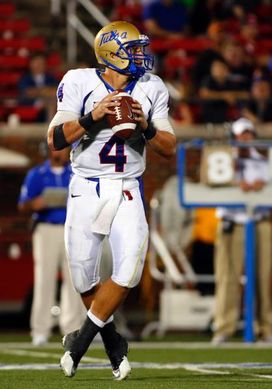 ICONKinne has what it takes to make an NFL roster.
QB G.J. Kinne: Tulsa (6-2, 234)
Kinne has a little Jeff Garcia/Bruce Gradkowski to his game. He will fall on draft day because of his size, but is your typical gritty QB prospect who is the son of a coach and in my view will find a way to make a roster and potentially fight for playing time down the line. I like him more as a prospect than Boise State's Kellen Moore.
RB Robert Turbin: Utah State (5-10, 216)
Physically, he reminds me some of New York Jets RB Shonn Greene. But as a runner, he looks more natural as a zone guy who he can use his cut back ability to pick his way through traffic, square his shoulders and then attack daylight. Has the skill set to mature into a starter at the next level, but because of his lack of a great burst, he doesn't strike me as a guy who is ever going to have a real gaudy yards per carry average. Nevertheless, he should be able to keep you ahead of the chains and create the tough yards through contact.
H-Back Evan Rodriguez: Temple (6-3, 250)
Rodriguez isn't a guy who's going to get drafted high. However, he's got the potential to fill a number of roles on an NFL offense in both the run and pass game, can create some mismatches as a pass catcher and develop into a core special teams guy early on.
TE Rhett Ellison: Southern California (6-5, 250)
Isn't an elite straight-line athlete or dominant in-line guy. However, has the ability to be successful in both the run and pass game at the next level. Doesn't look like a starter to me, but may be able to earn playing time early during his NFL career.

Is limited a bit by his size, but is the kind of cat-quick slot guy with great ball skills who can make a living in the NFL. The major positive with him though is that he also has very good speed and can easily make plays down the field.
WR Jarius Wright: Arkansas (5-10, 180)
A coordinated athlete who is slippery as a route runner, tough over the middle and knows how to get open vs. man and zone. Will get re-routed vs. press at times and looks more like an inside player at the next level, but has the skill set to make a roster and carve out a big niche early.
OT Andrew Datko: Florida State (6-6, 321)
He's a solid athlete who can bend, re-direct and block in space. However, he's had some struggles with power when trying to stay engaged and hasn't been able to stay healthy throughout his career. Nevertheless, in a weak offensive tackle class, he's one of the few prospects that possess the skill set to start in the NFL.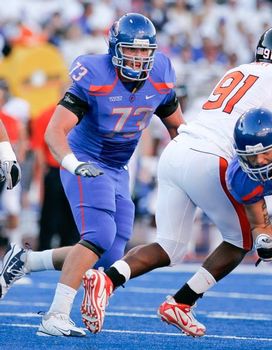 ICONPotter is a solid mid-round type value.
OT Nate Potter: Boise State (6-6, 300)
Potter, in my book, is a poor man's version of former Boston College LT Anthony Castonzo. He has the talent to earn a starting job in more of a zone scheme, but is going to need a year or two before he's ready physically to mature into the player he's capable of becoming.
OG Brandon Brooks: Miami (Ohio) (6-5, 343)
Is a big, strong kid who has some lateral quickness for his size, but needs some technique work. Nevertheless, he has some upside and can win consistently in both the run and pass game, and looks like an NFL starter in an angle scheme to me.
OG Jeff Allen: Illinois (6-5, 315)
He's not an overpowering run blocker, but can bend, gain leverage and seal inside. He's smooth and coordinated in pass protection, can keep his base down and warrants a higher grade because of it. Needs to play inside at the next level, but looks like a guy who can start in the league.
OC David Snow: Texas (6-4, 295)
Isn't an overly powerful in-line guy or elite athlete. But he can bend, is coordinated in both the run and pass game and does a great job shooting his hands inside and sticking to blocks. Looks like a guy who can make a roster and with some improved strength fight for playing time down the line.
Follow me on twitter: @WesBunting
Check out the NFP Draft page here...