February 01, 2012 -
National Football Post
NFL Draft: All-Star game risers
Risers from the all-star game circuit…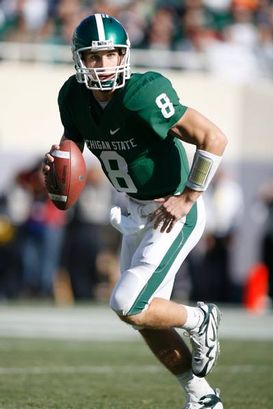 ICONCousins helped his stock in Mobile.
QB Kirk Cousins: Michigan State (6-3, 205)
I'm not a huge Cousins fan. However, he showcased the ability to spin the football cleanly all week in Mobile, displayed good touch down the field and look poised from under center in a pro style offense. He still seems to get rattled too easily in the pocket vs. any type of pressure, but did a lot of help his stock in the eyes of some last week.

CB Josh Norman: Coastal Carolina (6-0, 190)
Norman was brilliant at the East-West Shrine game, showcasing the ability to consistently click and close in off man, and make plays on the football. He's a long, well-built athlete with good length, "plus" athleticism and a great feel for the game. There are some off the field character concerns, but the guy gave up little in the form of separation all week long and looks like an NFL starter.

WR Marvin Jones: California (6-2, 202)
Jones was a bit of an after thought at Cal this year. However, the receiver not only displayed the ability to run the entire route tree in front of scouts in Mobile, but also demonstrated deceptive vertical speed down the field. He answered some questions during the game as well about his ability to separate from the talented South corners and looks like a potential NFL starting wide out to me.

DT Alameda Ta'amu: Washington (6-3, 337)
This was a guy a lot of talent evaluators started souring on during the regular season. As he had a tendency to get high on contact and didn't do a great job using his hands vs. the run game. However, he's got a good first step for his size, displays imposing power at the point of attack and looks like a guy who can anchor the inside of a 34 front at the next level to me.

QB B.J Coleman: Tennessee-Chattanooga (6-4, 220)
He's a big, strapping quarterback with a "plus" arm and when he maintains balance into his throw the guy can really put the football on the numbers. He's a good athlete for his size as well and looks natural on the move. However, becoming more consistent gathering himself from under center is a must, as he will struggle with his footing at times, which ultimately effects his accuracy.

TE Chase Ford: Miami (6-6, 245)
He's a little goofy as an athlete and doesn't generate a ton of burst out of his breaks. However, he's a big kid with a lot of growth potential and knows how to set up routes underneath. Plus, the guy is comfortable playing with a defender in his back pocket and showcases natural length and coordination when asked to adjust and go get the football. He caught the ball well all week at the East-West Shrine game and looks like a prospect I would certainly be willing to role the dice on later in the draft.
Follow me on twitter: @WesBunting
Check out the NFP Draft Page here...