March 28, 2012 -
National Football Post
NFL Draft: Bears 1st Round Options
Potential prospects available for the Bears at 19…
WR Michael Floyd: Notre Dame (6-3, 224)
Didn't seem quite as dynamic as a receiver when he bulked up in 2010. However, has looked sudden, explosive and showcased the ability to separate quickly and create after the catch as a senior. Is one of the draft's top receiving prospects.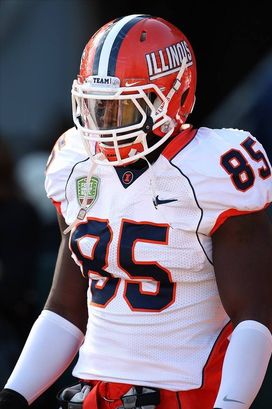 ICONMercilus would be a great fit in Chicago.
DE Whitney Mercilus: Illinois (6-4, 265)
Physically he looks the part and has the skill to simply man handle college lineman at times. However, he's a raw kid who is stiff in the hips and doesn't have a great feel for the game when asked to find the football. He's got some upside, but his tightness and overall lack of natural feel for the game are two very big concerns that will keep him from being the type of pass rusher his freaky skill set says he could.
OT Jonathan Martin: Stanford (6-6, 304)
He's got the NFL size, length and overall athletic skill set. However, he's not a natural anchor player and doesn't strike me as a guy who is ever going to be real physical at the next level. He can mirror in space, but struggles to stick through contact and isn't real heavy handed. Looks like a finesse tackle who will get over drafted because of athletic talent, but is going to have a hard time keeping the edge clean at the next level.
Quinton Coples: North Carolina (6-6, 285)
Can be as good as he wants to be in the NFL. The game comes very easy to him and he can be dominant if he learns to use his arms even better to slip blocks in the pass game, but with more time I expect that to improve. The sky is the limit as long as he's willing to work at his trade and keep his motor running.

WR Kendall Wright: Baylor (5-10, 190)
In the same mold as a number of Pittsburgh Steelers receivers (Mike Wallace, Emmanuel Sanders) and can be effective both inside and out making plays down the field at the next level.