April 09, 2012 -
National Football Post
NFL Draft: Browns 1st Round Options
Potential prospects available for the Browns at 4…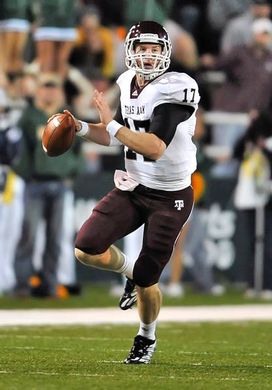 ICONTannehill could be in play for the Browns at four.
QB Ryan Tannehill: Texas A&M (6-4, 222)
With such limited experience at the quarterback position it's not a case of where this guy is right now, but where he can be in 2/3 years. I love the talent and the overall production from a guy who doesn't have much experience playing from under center as he plays way beyond his years. A potential franchise quarterback in my mind.

RB Trent Richardson: Alabama (5-11, 224)
The best running back prospect I've seen since Adrian Peterson. His running style might limit his shell life a bit in the NFL. However, he's the kind of back you can ride like a rented mule from day one and should become one of the NFL's top runners early on.

CB Morris Claiborne: Louisiana State (6-0, 185)
The top corner in this year's draft. He's tall and long which allows him to play big off the line. However, he showcases the footwork, balance and quick-twitch ability of a much smaller corner out of his breaks. With improved technique he should mature into one of the leagues best.

DE Quinton Coples: North Carolina (6-6, 285)
Can be as good as he wants to be in the NFL. The game comes very easy to him and he can be dominant if he learns to use his arms even better to slip blocks in the pass game, but with more time I expect that to improve. The sky is the limit as long as he's willing to work at his trade and keep his motor running.

WR Justin Blackmon: Oklahoma State (6-1, 215)
The lack of straight-line speed will limit him however, and when comparing him to first round receivers A.J. Green and Julio Jones last year, I don't think he's in their class. Nevertheless, he's got the skill set to line-up all over an NFL offense and make plays on all levels of the field.