April 12, 2012 -
National Football Post
NFL Draft: Buccaneers 1st Round Options
Potential prospects available for the Buccaneers at 5…

RB Trent Richardson: Alabama (5-11, 224)
The best running back prospect I've seen since Adrian Peterson. His running style might limit his shell life a bit in the NFL. However, he's the kind of back you can ride like a rented mule from day one and should become one of the NFL's top runners early on.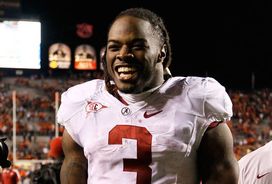 ICONRichardson could carry the load from day one.
CB Morris Claiborne: Louisiana State (6-0, 185)
The top corner in this year's draft. He's tall and long which allows him to play big off the line. However, he showcases the footwork, balance and quick-twitch ability of a much smaller corner out of his breaks. With improved technique he should mature into one of the leagues best.

WR Justin Blackmon: Oklahoma State (6-1, 215)
The lack of straight-line speed will limit him however, and when comparing him to first round receivers A.J. Green and Julio Jones last year, I don't think he's in their class. Nevertheless, he's got the skill set to line-up all over an NFL offense and make plays on all levels of the field.

WR Michael Floyd: Notre Dame (6-3, 224)
Didn't seem quite as dynamic as a receiver when he bulked up in 2010. However, has looked sudden, explosive and showcased the ability to separate quickly and create after the catch as a senior. Is one of the draft's top receiving prospects.


Has a rare physical skill set due to his combination of flexibility, power and get off burst. However, he's still learning the nuances of the position. If he's willing to put in the time, Poe can mature into one of the leagues better interior presences. Nevertheless, because he's raw his floor isn't overly high either.