April 10, 2012 -
National Football Post
NFL Draft: Cowboys 1st Round Options
Potential prospects available for the Cowboys at 14…

OG David DeCastro: Stanford (6-5, 310)
The best offensive line prospect I've evaluated since Maurkice Pouncey in 2010. He showcases the ability to get a push in-line and is a dominant move player as well. He's fluid/natural in pass protection and with a little more power in his base he's got the skill set to become on of the leagues best guards early in his NFL career.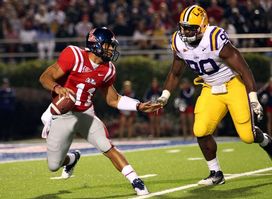 ICONBrockers is an agile big man in space.
DE Fletcher Cox: Mississippi State (6-4, 295)
I think his best spot might be as a 34 five technique who is able to penetrate and make plays off the ball. He's raw and needs to learn to play with his pad level lower. However, as a potential five technique he's a guy who has the skill set to earn a starting role.

DL Michael Brockers: Louisiana State (6-6, 306)
He might be a little raw and could have used some more work at the college level. However, he's an NFL talent with "plus" upside but can also come in and play vs. the run at a high level right away. Should get looks at both the three and five-technique spots and in my mind has the ability to become one of the better defensive lineman in the NFL down the line.

OLB Courtney Upshaw: Alabama (6-2, 265)
I like him as a 34 outside backer who can play on the strong side, take on linemen at the point and also rush the passer. He's at his best attacking downhill, using his strong hands to disengage and always is around the football. Looks like a year one starter to me at the next level with scheme versatility.

SS Mark Barron: Alabama (6-2, 218)
Has the makings of a heck of a special teams player who can also attack downhill vs. the run game, play inside the box and drive on the football in front of him in the pass game. Isn't going to be a major threat turning and tracking the football, but his improved instincts makes me think he can start in the league early on.