April 17, 2012 -
National Football Post
NFL Draft: Dolphins 1st Round Options
Potential prospects available for the Dolphins at 8...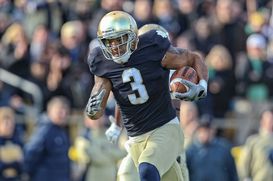 ICONMiami has a void at wide out and Floyd fits the need.
QB Ryan Tannehill: Texas A&M (6-4, 222)
With such limited experience at the quarterback position it's not a case of where this guy is right now, but where he can be in 2/3 years. I love the talent and the overall production from a guy who doesn't have much experience playing from under center as he plays way beyond his years. A potential franchise quarterback in my mind.

WR Michael Floyd: Notre Dame (6-3, 224)
Didn't seem quite as dynamic as a receiver when he bulked up in 2010. However, has looked sudden, explosive and showcased the ability to separate quickly and create after the catch as a senior. Is one of the draft's top receiving prospects.

OT Riley Reiff: Iowa (6-6, 300)
Showcases the ability to bend with good foot quickness and range in pass protection. Also displays an explosive element to his game as a run blocker. Needs to be more consistent with his footwork and would like to see him develop a bit more as a puncher in order to keep himself clean. Nevertheless, has the athleticism, flexibility and pedigree to mature into a solid starting left tackle in the NFL.

DT Michael Brockers: Louisiana State (6-6, 306)
He might be a little raw and could have used some more work at the college level. However, he's an NFL talent with "plus" upside but can also come in and play vs. the run at a high level right away. Should get looks at both the three and five-technique spots and in my mind has the ability to become one of the better defensive lineman in the NFL down the line.

OLB Melvin Ingram: South Carolina (6-2, 276)
He is an impressive pass rusher who can get after the QB in a number of ways. Ingram is raw with his technique and can get better, but his suddenness and natural feel for the game makes me think he's one of the draft best senior pass rushers.