April 11, 2012 -
National Football Post
NFL Draft: Eagles 1st Round Options
Potential prospects available for the Eagles at 15…

DE Fletcher Cox: Mississippi State (6-4, 295)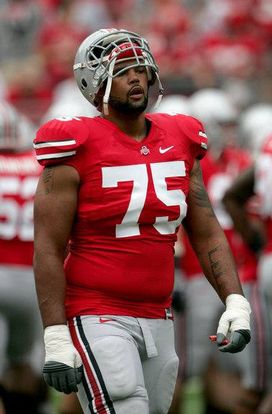 ICONAdams looks the part of an NFL tackle.
I think his best spot might be as a 34 five technique who is able to penetrate and make plays off the ball. He's raw and needs to learn to play with his pad level lower. However, as a potential five technique he's a guy who has the skill set to earn a starting role.

OT Mike Adams: Ohio State (6-8, 320)
He's a talented kid with a big frame, long arms and natural movement skills. He can bend and if he can put it all together and continue to improve his footwork he could certainly mature into a starting caliber left tackle in the NFL.
DL Michael Brockers: Louisiana State (6-6, 306)
He might be a little raw and could have used some more work at the college level. However, he's an NFL talent with "plus" upside but can also come in and play vs. the run at a high level right away. Should get looks at both the three and five-technique spots and in my mind has the ability to become one of the better defensive lineman in the NFL down the line.

OT Jonathan Martin: Stanford (6-6, 315)
He's got the NFL size, length and overall athletic skill set. However, he's not a natural anchor player and doesn't strike me as a guy who is ever going to be real physical at the next level. He can mirror in space, but struggles to stick through contact and isn't real heavy handed. Looks like a finesse tackle who will get over drafted because of athletic talent, but is going to have a hard time keeping the edge clean at the next level.

QB Ryan Tannehill: Texas A&M (6-4, 222)
With such limited experience at the quarterback position it's not a case of where this guy is right now, but where he can be in 2/3 years. I love the talent and the overall production from a guy who doesn't have much experience playing from under center as he plays way beyond his years. A potential franchise quarterback in my mind.