April 16, 2012 -
National Football Post
NFL DRAFT: First Round Surprises
Ten prospects who might hear their name called at the back end of round one…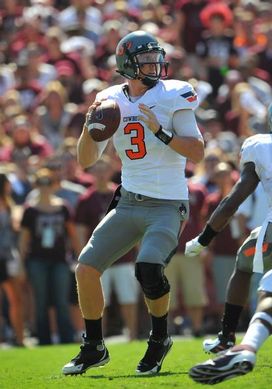 ICONThe priority of the QB position has Weeden on the rise.
QB Brandon Weeden: Oklahoma State (6-4, 218)
His age will likely keep him from going as early in the draft as his talents deserve. But there isn't a throw this guy can't make and he has the skill set and mental make-up to mature into a potential starter with some time.

RB Doug Martin: Boise State (5-9, 215)
Martin isn't a dynamic size/speed back, but there aren't many negatives to his game as a back. He plays fast, runs low, is natural through the line of scrimmage and has a skill set somewhat similar to former Alabama RB Mark Ingram last year. He might fall a bit because he doesn't run overly well, but he has the skill set to start in the league.

RB David Wilson: Virginia Tech (5-10, 205)
He's a compact kid who runs stronger/harder than you would expect from a guy his size. Has a dynamic quality to his game both inside and in the open field, and looks capable of maturing into a very good NFL running back early on in the NFL.

WR Mohamed Sanu: Rutgers (6-2, 215)
Physically reminds me some of Hakeem Nicks. Isn't as NFL ready, but can go get the football, breakdown and separate on all levels of the field. Looks like a future NFL starter who might need some time, but the talent is most definitely there.

OG Amini Silatolu: Midwestern State (6-3, 324)
He has some technique flaws that needs to be fixed and will need to kick inside at the next level. However, he's a wide-bodied athlete with a powerful/explosive frame, good foot quickness and can really pull from the backside. Might need some time, but is one of the top guards in the class with as much upside as any.

DE Andre Branch: Clemson (6-5, 260)
Has a lot of untapped talent. And is the kind of athlete you would expect to mature into a solid three down player in the NFL as a 43 DE.

DT Alameda Ta'amu: Washington (6-3, 337)
This is the kind of guy who has the ability to anchor the middle of an NFL defense in either a 3-4 or 4-3 front. Needs to do a better job finding the football, but overall he looks like a starter who you eventually will be able to win with in the NFL.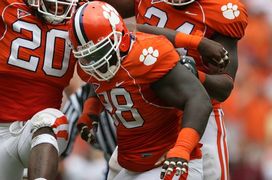 ICONThompson could get a look in both a 34 and 43 front.
DT Brandon Thompson: Clemson (6-2, 310)
A guy who should be able to come in and be a lineman who can win inside vs. the run game. Looks a bit limited as a pass rusher, but will be able to push the pocket and threaten gaps off the ball. A starting caliber 43 nose inside.
OLB Shea McClellin: Boise State (6-3, 258)
McClellin is a productive pass rusher with a big motor, good skill set and can get after the QB in a number of ways. Looks like a potential starter at the next level.

CB Josh Robinson: Central Florida (5-10, 192)
Robinson is a talented corner. He's fluid, can really run and has the vertical speed to make up for a false step at the college level. He's also a guy who will tackle and isn't afraid to mix it up inside. However, I have a tough time giving any undersized corner a first-round grade who isn't technically sound in his drop and/or isn't real physical off the line. Nevertheless, because he has the speed I wouldn't be surprised to see him come off the board late in round one.