April 12, 2012 -
National Football Post
NFL Draft: Instant Impact Prospects
A look at the most NFL ready prospects out there…

RB Trent Richardson: Alabama (5-11, 224)
The best running back prospect I've seen since Adrian Peterson. His running style might limit his shell life a bit in the NFL. However, he's the kind of back you can ride like a rented mule from day one and should become one of the NFL's top runners early on.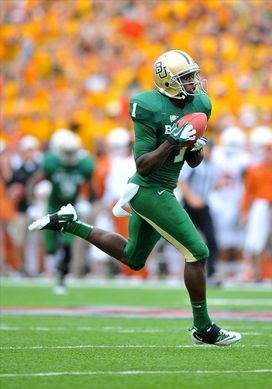 ICONWright can make an impact even when not catching the football.
WR Kendall Wright: Baylor (5-10, 190)
In the same mold as a number of Pittsburgh Steelers receivers (Mike Wallace, Emmanuel Sanders) and can be effective both inside and out making plays down the field at the next level.

OL Cordy Glenn: Georgia (6-5, 348)
Had had some struggles in space as a tackle prospect, but in tighter areas where he can get his hands on linemen quickly as a guard he showcases the ability to dominate. Looks like a starting caliber OG early in his NFL career.

OG David DeCastro: Stanford (6-5, 310)
The best offensive line prospect I've evaluated since Maurkice Pouncey in 2010. He showcases the ability to get a push in-line and is a dominant move player as well. He's fluid/natural in pass protection and with a little more power in his base he's got the skill set to become on of the leagues best guards early in his NFL career.

OG Kevin Zeitler: Wisconsin (6-4, 315)
A tough, strong in-line guy who you can run behind and also has some coordination on the move. Not as effective in the pass game, but can mature into an average NFL pass blocker if he learns to get off the ball more consistently. Looks like a gritty type starter early on in his NFL career to me.

DE Tyrone Crawford: Boise State (6-4, 276)
I like his skill set. I think he's going to develop quickly at the next level and he has the ability to be a solid three down lineman with some time. He isn't there yet, but as a prospect Crawford has some real upside and displays the kind of blue-collar pass rushing mentality that I like with a powerful element to his game on contact.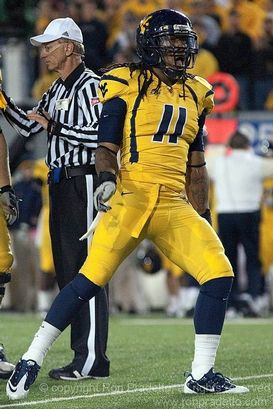 ICONIrvin's first step will instantly make him a threat off the edge.
DT Mike Martin: Michigan (6-2, 304)
The kind of prospect you don't want to bet against. Is limited and doesn't have the kind of frame to get all that bigger, but I can see him working his way into a rotation as a 43 nose in the NFL and being the kind of guy coaches love.

OLB Lavonte David: Nebraska (6-1, 225)
He's undersized, but is instinctive. Might be limited to more of a cover two type scheme only, but looks like a starting caliber weak side guy to me early in his NFL career.

OLB Bruce Irvin: West Virginia (6-3, 245)
A gifted athlete who has the initial burst to routinely reach the edge. However, lacks ideal size and doesn't have a real sophisticated pass rushing repertoire. Is going to make the move to a 34 OLB at the next level and might need a little time. Reminds me some of the Chris Clemons.

CB Dre Kirkpatrick: Alabama (6-3, 192)
Will be an ideal zone corner at the next level because of his size, instincts and physicality. However, he can also press off the line and consistently re-route receivers. Isn't a dynamic quick-twitch athlete, but showcases good balance, can keep his feet under him and looks like a "plus" caliber starting cornerback in the NFL. Reminds me some of Chargers cornerback Quinton Jammer physically.

OLB/DB Jerico Nelson: Arkansas (5-10, 216)
A tough, rangy kid who holds up well in coverage and I love him as a football player. But where do you play him in the NFL? Body type says strong safety. Looks like a nickel backer to me who can play special teams from day one.