February 11, 2012 -
National Football Post
NFL DRAFT: Late round sleepers worth monitoring
Breaking down my top sleeper prospects for the 2012 NFL Draft…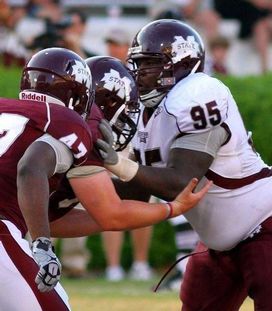 ICONCarmon is a big body with a lot of upside.
WR Matt Austin: Utah State (6-2, 198)
He's still working his way back from the knee injury and his best football is ahead of him. Austin is developing as a route runner, however, he's coordinated, can beat press coverage and pluck the football. He looks like at worst a later round pick who can fight his way onto a roster as an inside reserve, with the upside to play on the outside.
OT James Carmon: Mississippi State (6-7, 320)
He's a gifted athlete for his size who at worst is worth a developmental/free agent grade. He's the type of lineman I would love to have/develop on my practice squad for a year and see how far he can come. He's very raw as a former defensive lineman, but the skill set is there.
CB Jeremy Lane: Northwestern State (6-0, 183)
Has the size and talent to get drafted. Needs to get a bit stronger and clean up his footwork, but has the skill set to play both inside and out in the NFL.
DT Damon Harrison: William Penn (6-2, 340)
The kind of physically put together kid who can develop as a nose in either a 34 o4 43 front. In a weaker senior class at DT I would rather roll the dice on this higher upside defensive tackle than most of the later round guys at bigger schools.
RB Daryl Richardson: Abilene Christian (5-11, 195)
A dynamic athlete with some real quick-twitch ability. Looks like a late round/priority free agent type who could quickly earn a spot on a roster as a third running back and return man. Has elite straight-line speed and is a big play waiting to happen.
OG Kelvin Beachum: Southern Methodist (6-3, 306)
Possesses the size/power to win as an in-line guy and the athleticism to pull in power situations and get out into the second level as well. He's a coordinated pass protector on the edge and has the skill set to make the move to guard at the next level.
OLB Delano Johnson: Bowie State (6-4, 267)
A good-looking kid with an intriguing physical skill set. Is a developing pass rusher, but certainly has the upside to get a look in an NFL camp and potentially make a roster if he ever figures it out.
ILB Shawn Loiseau: Merrimack (6-0, 241)
Displays an explosive element to his game vs. the run game. Has the first step to close vs. the pass, is stiff when trying to turn and run, but has the speed to track the football. Should be able to fight his way onto special teams as a rookie.
Follow me on twitter: @WesBunting
Check out the NFP Draft page here...