April 02, 2012 -
National Football Post
NFL Draft: Lions 1st Round Options
Potential prospects available for the Lions at 23…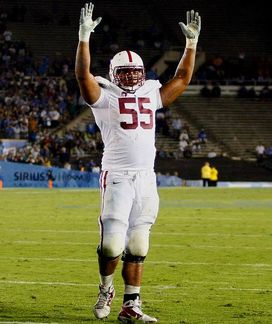 Martin looks the part of an NFL left tackle.
CB Janoris Jenkins: North Alabama (5-10, 182)
If he can put it all together off the field, he's got the ability to develop into a very good cover man in the NFL and despite his size he's going to be a really tough guy to separate from in just about any scheme he plays in.
OT Jonathan Martin: Stanford (6-6, 305)
He's got the NFL size, length and overall athletic skill set. However, he's not a natural anchor player and doesn't strike me as a guy who is ever going to be real physical at the next level. He can mirror in space, but struggles to stick through contact and isn't real heavy handed. Looks like a finesse tackle who will get over drafted because of athletic talent, but is going to have a hard time keeping the edge clean at the next level.
CB Stephon Gilmore: South Carolina (6-1, 193)
Is a "plus" sized corner with good quickness and fluidity. Needs to clean up his footwork in off/zone concepts, but has skill set to play near the line, check receivers and turn and run. Should be able to fight for a starting role during his rookie year in more of a zone scheme.

OG Cordy Glenn: Georgia (6-5, 348)
Had some struggles in space as a tackle prospect, but in tighter areas where he can get his hands on linemen quickly as a guard he showcases the ability to dominate. Looks like a starting caliber OG early in his NFL career.

DE Whitney Mercilus: Illinois (6-4, 265)
Physically he looks the part and has the skill to simply man handle college lineman at times. However, he's a raw kid who is stiff in the hips and doesn't have a great feel for the game when asked to find the football. He's got some upside, but his tightness and overall lack of natural feel for the game are two very big concerns that will keep him from being the type of pass rusher his freaky skill set says he could.