March 26, 2012 -
National Football Post
NFL Draft: Packers 1st Round Options
Potential prospects available for the Packers at 28…
OLB Nick Perry: Southern California (6-3, 250)
Exhibits the first step to be a threat off the edge, however struggles to drop his pad level when flattening out. Plus, he doesn't have much of a counter to his game at this point. Nevertheless, has some obvious talent and is a guy you would expect to start as a rush backer in a 34 scheme and be a productive threat off the edge.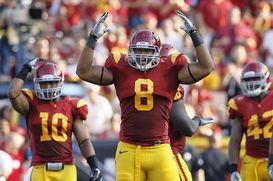 ICONPerry has the ability to fly off the edge in the Packers 34 front.
DL Brandon Thompson: Clemson (6-2, 310)
A guy who should be able to come in and be a lineman who can win inside vs. the run game. Looks a bit limited as a pass rusher, but will be able to push the pocket and threaten gaps off the ball. A starting caliber 43 nose inside.
LB Dont'a Hightower: Alabama (6-4, 260)
Looks like a potential impact caliber 34-inside linebacker who has the skill set to win inside vs. the run and create pressure on third down as a savvy rush guy as well.
DL Jerel Worthy: Michigan State (6-3, 310)
A talented kid with a thick frame, "plus" get off burst and snap awareness to his game. However, doesn't shed blocks well when engaged and lacks ideal anchor ability inside. Looks like a one-gap type lineman only who could give solid reps at both nose and three-technique in a 43 front. But is going to need some time before he's ready to start.
OLB Shea McClellin: Boise State (6-3, 258)
McClellin is a productive pass rusher with a big motor, good skill set and can get after the QB in a number of ways. Looks like a potential starter at the next level.