March 30, 2012 -
National Football Post
NFL Draft: Ranking the 3-4 LB Class by Tiers
Breaking down the tiers of linebacker prospects…

Tier 1

OLB Melvin Ingram: South Carolina (6-2, 276)
He is an impressive pass rusher who can get after the QB in a number of ways. Ingram is sudden in tight areas and his natural feel for the game makes me think he's going to be one of the draft's best senior pass rushers.

Tier 2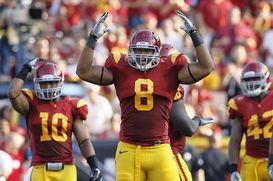 ICONPerry can be a threat off the edge.
OLB/ILB Courtney Upshaw: Alabama (6-2, 265)
I like him as a 34 outside backer who can play on the strong side, take on linemen at the point and also rush the passer. He's at his best attacking downhill, using his strong hands to disengage and always is around the football. Looks like a year one starter to me at the next level with scheme versatility.

OLB Nick Perry: Southern California (6-3, 250)
Exhibits the first step to be a threat off the edge, however struggles to drop his pad level when flattening out. Plus, he doesn't have much of a counter to his game at this point. Nevertheless, has some obvious talent and is a guy you would expect to start as a rush backer in a 34 scheme and be a productive threat off the edge.

OLB Shea McClellin: Boise State (6-3, 258)
McClellin is a productive pass rusher with a big motor, good skill set and can get after the QB in a number of ways. Looks like a potential starter at the next level. However, has also shown the ability to play from a two-point stance and find the football in the run game with consistency.

ILB/OLB Dont'a Hightower: Alabama (6-4, 260)
Looks like a potential impact caliber 34-inside linebacker who has the skill set to win inside vs. the run and create pressure on third down as a savvy rush guy as well.
For Tiers 3-5 click to page two...